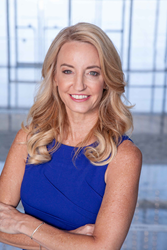 "We couldn't be more excited about an addition than we are about Laura. She has been a force in Collin County for some time. Giving her a bigger platform will send both she and our firm into orbit," said McCathern founder Levi McCathern
DALLAS (PRWEB) August 06, 2019
Dallas-based law firm McCathern, PLLC is excited to announce the addition of attorney Laura Roach to its Family Law section. Laura will be based out of the firm's office at The Star in Frisco, where family law attorneys Scott J. Becker and Erin Clegg currently practice. The addition of Laura to this team creates a powerful group of lawyers experienced the many facets of family litigation, mediation and divorce.
Laura has practiced law since 1994, focusing on family law since 2001. Prior to joining McCathern, Laura led the family law section at Albin Roach, PLLC, where she honed her family law practice in Collin County for 20 years. She began her career as an Assistant District Attorney in the Bexar County District Attorney's Office.
McCathern's leadership is ecstatic about this latest addition. "We couldn't be more excited about an addition than we are about Laura. She has been a force in Collin County for some time. Giving her a bigger platform will send both she and our firm into orbit," said McCathern founder Levi McCathern.
"I've long admired what Laura was able to do from afar. She's a great attorney and great businesswoman and we could not be happier to have her be a part of the McCathern family," said McCathern Managing Partner Arnold Shokouhi.
Laura's philosophy on handling family law cases is to resolve the case as efficiently and as cost-effectively as possible. Having handled thousands of such cases, Laura understands and sympathizes with the emotional and financial cost of a divorce. She strives to balance the best interest of her client with the cost of continuing the fight. Her expertise at this balancing act has helped a multitude of clients get a good result at a reasonable cost.
This expertise is regularly recognized, including by D Magazine Best Lawyers in Dallas from 2013 to 2019, Thomson Reuters Texas Super Lawyers 2013 to 2019, Plano's Best Attorney in Plano Profile magazine as far back as 2013, Top 21 to Lead Collin County into the 21st Century by Inside Collin County Business, and her favorite recognition, Texas PTA lifetime member.
About McCathern, PLLC and the McCathern Family Law Section:
McCathern is a full-service law firm that provides high-quality legal services to clients across the nation with a broad range of practice group specializations. Each of the firm's leaders brings large-firm experience and business acumen to a smaller-firm environment of agility and efficiency. McCathern's philosophy of improving people's lives is implemented daily by treating clients as business partners, working together to find the solution to a dispute, or to close transactions in a diligent, cost-effective manner. The firm's track record has attracted an impressive clientele list, ranging from Fortune 500 corporations and high-profile organizations, to small companies and high-net-worth individuals. McCathern has offices in Dallas, Frisco, Houston and Los Angeles.
The McCathern Family Law Section handles all aspects of domestic litigation, including divorce, child custody & parenting time disputes, child support, complex property division, paternity determinations, premarital and post-marital agreements, enforcement or modification of orders, adoption, and other related areas. We strive to find creative ways to achieve client goals and use innovative litigation techniques to obtain the best results for our clients. McCathern also has attorneys experienced in real property and business transactions, providing a one-stop shop for all issues involved with domestic litigation.
Share article on social media or email: