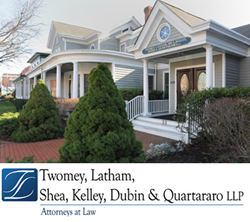 Riverhead, NY (PRWEB) November 10, 2017
Twomey, Latham, Shea, Kelley, Dubin & Quartararo LLP, the largest law firm in Eastern Suffolk County, is pleased to announce that Emily Towle has joined the Riverhead based firm as Marketing Director.
Emily Towle has extensive experience overseeing holistic, strategic brand marketing campaigns, expertise in creative strategy and event production.
Prior to joining the firm, Ms. Towle was a marketing consultant for Cirque du Soleil, Account Director for Civic Entertainment Group and the Director of Brand Marketing at The Madison Square Garden Company where she spent close to nine years.
In her previous roles, Ms. Towle was responsible for Brand & Creative Development, Marketing Partnerships, Media Strategy, TV Production, Digital Ecosystem Design, Development and Strategy. She was accountable for managing operations, resources and the planning of brand-defining platforms.
As an integral team-leader Emily was accountable for planning, implementing and optimizing cross-channel marketing strategies, while elevating the brand-to-consumer relationship for increased engagement, affinity and conversion.
Ms. Towle received her Bachelor of Science degree from the Fashion Institute of Technology, where she majored in Advertising and Marketing Communications and studied International Marketing at Lorenzo de Medici in Florence, Italy.
About Twomey, Latham, Shea, Kelley, Dubin & Quartararo LLP
With 28 attorneys and a staff of over 30 people, Twomey, Latham, Shea, Kelley, Dubin & Quartararo offers a full range of legal services including commercial litigation, zoning and land use, real estate and corporate transactions, estate planning and administration, elder law, municipal law, environmental law, copyright and trademark law, mediation, matrimonial and family law. The firm's main office is located in Riverhead and additional offices are located in East Hampton, Hauppauge, Southampton and Southold.
Share article on social media or email: