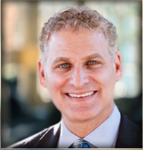 PHILADELPHIA (PRWEB) January 17, 2019
McCann & Wall, LLC is excited to announce the recent naming of Mark Jaffe as partner.
The law office of McCann & Wall, LLC has named Mark Jaffe as partner of the Philadelphia personal injury law firm. Attorneys at McCann & Wall, LLC strive to achieve the highest level of professionalism in every case as they work hard to meet the needs of their clients. The decision to make Mark Jaffe a partner will increase the positive results and accomplishments of McCann & Wall, LLC.
Mark Jaffe, a graduate of Temple University's Beasley School of Law, has an extensive background in personal injury litigation and medical malpractice. Practicing law since 1993, Mr. Jaffe has dedicated himself to clients in and around the Pennsylvania, Delaware, and New Jersey area. From joining the firm as an associate in 2009, Mr. Jaffe has helped McCann & Wall, LLC obtain more than $200 million in verdicts and settlements within the last 15 years.
Mr. Jaffe has proven to be an accomplished lawyer with numerous accolades including membership to the Golden Key National Honor Society, the Philadelphia Bar Association, the Pennsylvania Association for Justice and Phi Alpha Delta fraternity. After obtaining a bachelor's degree at George Washington University and subsequent law degree at Temple, Mr. Jaffe's experience in his field is the standard of excellence that defines McCann & Wall, LLC. As a partner, Mr. Jaffe will represent clients in the tri-state area on behalf of their personal injury, professional and product liability, and Workers' Compensation lawsuits.
Attorneys at McCann & Wall, LLC work hard to secure fair compensation for all their clients and realize the dedication it takes to secure successful settlements. Mr. Jaffe's success in past cases and his knowledgeable law background make him a valuable asset to the firm.
For more information on McCann & Wall, LLC, visit their website at http://www.mccannwallinjurylaw.com or call 215-569-8488 to schedule a free consultation. McCann & Wall, LLC represents clients across Pennsylvania, New Jersey, and Delaware.
Share article on social media or email: