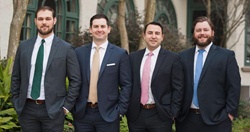 Scott Mansfield, attorney for Sharp, said ResCare has a long record of negligence in LA and across the nation. "ResCare has repeatedly failed in its responsibility to hire and train qualified, committed caregivers for its special-needs clients," Mansfield claimed.
NEW ORLEANS (PRWEB) September 25, 2018
Local personal injury law firm Mansfield Melancon Cranmer & Dick announced that it has filed suit against ResCare, Inc., an international health and human services provider, alleging responsibility for physical, sexual and psychological abuse suffered by a Livingston Parish resident. The case, number 670,148 Section: 23, will take place at the 19th Judicial District Court, Parish of East Baton Rouge, State of Louisiana.
According to court documents, Jessica Mitchell, the mother of Caleb Sharp, a 22-year-old resident with a chromosomal anomaly, alleged that supervisors at a Ponchatoula group home operated by ResCare allegedly instructed a resident to urinate on her son while he lay in bed. Mitchell also claimed Sharp suffered numerous beatings while in the home which were subsequently not reported by ResCare.
"ResCare is responsible for hiring qualified employees and training them to care for adults with special needs," said Scott Mansfield, attorney of Mansfield Melancon Cranmer & Dick representing Mitchell. ResCare operates group homes in 42 states and Puerto Rico, as well as Canada. It is ResCare's policy not to comment on any pending litigations.
For more information on the ResCare suit, parties are encouraged to contact Mansfield Melancon Cranmer & Dick at (504) 500-1108 in New Orleans, (225) 612-0800 in Baton Rouge, at (337) 409-0003 in Lafayette, or online at http://www.mansfieldmelancon.com. The firm's main office is located at 318 Harrison Ave, New Orleans, LA 70124.
Mansfield Melancon Cranmer & Dick is a Louisiana law firm specializing in personal injury, family law, criminal defense and general business litigation. The firm serves clients throughout Louisiana from its three office locations in New Orleans, Baton Rouge and Lafayette. The four founding partners work directly with the firm's clients at each office, rather than delegating client contact to paralegals or case managers.
Share article on social media or email: