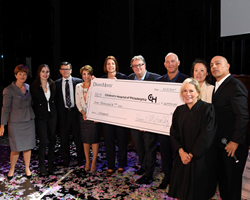 All of our competitors on both days demonstrated what amazing trial attorneys they are, and we are proud to have them all participate and help benefit such an amazing charity
PHILADELPHIA (PRWEB) November 11, 2017
Magna hosted its 5th annual competitive mock trial "Chopped for CHOP" featuring four trial attorneys going head-to-head in a mock trial setting to present their best case to a panel of judges. After each phase of the trial the judges voted to CHOP one lawyer from the competition, leaving one ultimate champion at the end. For the second year in a row, Susan Metcalfe of Duane Morris was crowned the CHOP champion and Magna Legal Services donated $4000, of a total $12,000 donated by Magna, on her and her law firm's behalf. Susan competed against four top trial attorneys: Andy Clubok of Kirkland & Ellis in New York, NY, Tom Mannion of Lewis Brisbois in Cleveland, OH, and Dan Santaniello of Luks, Santaniello, Petrillo & Jones in Boca Raton, FL. A live jury and a panel of judges made up of claims executives and in-house counsel provided real-time feedback on the effectiveness of the presentations via Magna's handheld audience response system.
On Day 1 of the CLE event, eight attorneys competed in a theme development exercise where the attorneys, working alongside teams of in-house counsel and claims executives, were provided the above case facts and were tasked with presenting an opening statement or closing argument for their assigned case. Shadow Jurors who were recruited from the "case venue" viewed the presentations and provided instant feedback and they also voted for "most convincing Opening and most convincing Closing" at the end of the program. The attorneys included Dennis Brown of Gordon & Rees; Scott Haworth of Haworth, Rossman & Gerstman; Barry Kaiman of Lewis Brisbois; Leslie Pollie of Kopka Pinkus Dolin; and Dan Santaniello of Luks, Santaniello, Petrillo & Jones. Wade Quinn of Ramey, Chandler, Quinn & Zito in Houston won $1000 for CHOP for best Opening and Pete Swayze of Segal McCambridge in Philadelphia and Aram Megerian of Cole, Scott & Kissane in Tampa, Florida both won $500 to be donated to CHOP on their behalf for presenting the most convincing closing arguments.
"All of our competitors on both days demonstrated what amazing trial attorneys they are, and we are proud to have them all participate and help benefit such an amazing charity," Peter Hecht, Magna's Executive Vice President of Sales, said. "No legal conference offers this sort of experience to its attendees, and I know those involved are excited to see these attorneys get into the competitive spirit to win the chance to donate to this organization. So many of those attending, myself included, have firsthand experience with the incredible work CHOP does for children across the United States."
The program was moderated again this year by Richard Fabian, Senior Vice President & General Counsel, at The RiverStone Companies.
Share article on social media or email: