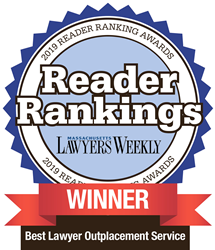 BOSTON (PRWEB) August 27, 2019
Keystone Partners, a Boston-based career transition and leadership development firm, announced today that it has been named "Best Lawyer Outplacement Service" by Massachusetts Lawyers Weekly.
2019 marks the third consecutive year the Reader Rankings program of Massachusetts Lawyers Weekly recognizes Keystone Partners for its outstanding work in supporting the transition of members of the legal community.
"It is a great honor for our team to be recognized for the third year for providing a critical service in supporting the transition of members of the legal community from one phase of their careers to the next," said Colleen Torell, Vice President, and Practice Lead for Keystone Partners Legal, a service of Keystone Partners.
Keystone Partners Legal has provided career transition services to law firms throughout New England for more than 35 years. The Keystone team has worked with hundreds of general counsel, partners, associates, and legal staff at all levels – both in-house and at top law firms – to successfully transition them into new positions or careers. And, the firms they leave behind are more likely to experience successful transitions that support a strong professional reputation in the business community.
"Attorney transitions require special services and we have built a comprehensive offering of career transition, leadership development, and retirement planning skills to ensure this process occurs seamlessly," said Elaine Varelas, Managing Partner of Keystone Partners. "Our consultants' depth of knowledge and breadth of experience in law-related job searches efficiently prepares professionals for alternative career paths beyond the legal field."
Keystone Partners' service offerings include outplacement, executive coaching, leadership development, retirement, and career reinvention. Each program is tailored to meet the unique needs of lawyers, legal professionals, corporate, non-profit, and government legal department professionals as they strive to achieve their career goals. Keystone Partners delivers services on a national and international basis through its partnership with Career Partners International.
About Massachusetts Lawyers Weekly
Massachusetts Lawyers Weekly was founded in 1972. It reports decisions issued by all the state and federal courts in Massachusetts, as well as changes to court rules, verdict & settlement reports, bar-discipline notices and all other news vital to attorneys in the commonwealth. Massachusetts Lawyers Weekly also covers hundreds of rulings from state and federal trial courts in Massachusetts, and state agencies like the Massachusetts Commission Against Discrimination. Massachusetts Lawyers Weekly now covers thousands of unpublished decisions from the Appeals Court – every ruling issued by the court.
About Keystone Partners
Keystone Partners, a Silver Oak Services Partners portfolio company, is a leading career management and leadership development consulting firm headquartered in Boston, Massachusetts. Keystone works with organizations in New England, Chicago, the Research Triangle, and around the world to efficiently and effectively address their career management and development needs.
Keystone Partners' divisions include Essex Partners, a premier career consultancy exclusively for senior executives; Keystone Associates, which provides comprehensive career management services through executive level; Camden Consulting Group, leadership and talent management experts who help leaders and their organizations learn, develop, grow and thrive; and Kensington, which also delivers exceptional leadership development, assessment, and career transition services. Keystone Partners is also a founding partner of Career Partners International. For more information, please visit http://www.keystonepartners.com.
About Career Partners International
Founded in 1987, Career Partners International is a leading provider of Outplacement, Career Management, Executive Coaching and Leadership Development services from more than 350 offices in over 50 countries. Employers around the world trust Career Partners International's local market experts to provide the best possible outcomes for employees across Canada, the United States, Latin America, Europe, Middle East and Africa, and Asia Pacific regions. Keystone Partners represents Career Partners International in New England, Chicago, and the Research Triangle.
Share article on social media or email: