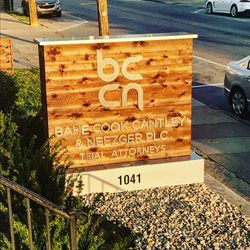 "We couldn't be happier with our new location and the BCCN building itself." says Partner John A. Bahe.
LOUISVILLE, Ky. (PRWEB) September 18, 2018
Bahe Cook Cantley & Nefzger PLC, a full service personal injury law firm, announced the opening of a new location in Louisville, Kentucky. The new offices are located in the Schnitzelberg Neighborhood at 1041 Goss Avenue. The official ribbon cutting will be held September 28, 2018, during the Germantown Oktoberfest, of which BCCN is listed as a Title Sponsor.
Local Real Estate Agent Gant Hill discovered the new offices in a building that was the former location of Russman & Son Funeral Home. The BCCN team worked closely with Kersey and Kersey Architects and A.L. Post, Inc. on the buildout, and Barry Wooley Designs on the modern interior.
"Our downtown location was great, and I loved being in the middle of all the action, but we decided with a couple of years to go in our lease that we wanted to own, if we could find the right place. We looked for a long time at properties in a lot of different areas – Downtown, the Highlands, NuLu, Portland and more – and finally found a great fit in Germantown. We are really looking forward to being a part of the Germantown and Schnitzelburg neighborhoods for the long term." says Will Nefzger, Partner.
At Bahe Cook Cantley & Nefzger PLC, their Louisville personal injury attorneys solely focus on handling serious injury, and wrongful death cases. For years, the firm has been devoted to fighting for the rights of injured persons and have secured an impressive record of victories along the way.
"Taking on some of the most complex personal injury matters means we get to have a direct role in helping victims and their families move forward after being stricken by tragedy. Staying 100% devoted to personal injury law matters means we get to make a real difference, one case and one client at a time." Nefzger said.
BCCN offers a wide variety of practice areas, from motor vehicle accidents to product liability to medical malpractice. The firm's practice areas also include Slip & Fall Accidents, Fire Injuries, Brain Injuries, and Boating Accidents. The firm is able to offer everything from Nursing Home Neglect or Abuse, Injury to Minors, and more. Having a new spacious new location will allow the team to focus on the same high level of service to their clients, ensuring clients are their top priority.
"The new building is more convenient for lawyers, staff, clients and other visitors to BCCN because of the easily accessible location, more and better access points and an attached, free parking lot. The larger space allows our attorneys to better serve our clients with three (3) dedicated conference rooms, more space for staff and a legal library; we couldn't be happier with our new location and the BCCN building itself." says Partner John A. Bahe.
One of the firm's major practice areas is personal injury law. BCCN is practiced in handling many types of injury cases including car accidents, wrongful death, product liability, dog bites/animal attacks, and more.
Bahe Cook Cantley & Nefzger PLC has been serving the residents of the Louisville area since 2004. Five Partners and 11 knowledgeable, trusted lawyers are ready and able to help the area's residents with personal law practice areas. If legal help is needed, visit the firm's website at http://www.kentuckyinjurylaw.com.
Media Contact:
Ashley Shadburne
http://www.hatfieldmedia.com
contact@hatfieldmedia.com
Share article on social media or email: