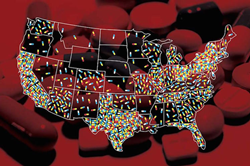 "I am proud to be able to hold these corporations accountable for their conduct, which resulted in this epidemic," says Nefzger. "These communities have borne the brunt of the epidemic, which has exhausted their, and ultimately their taxpayers', resources."
LOUISVILLE, Ky. (PRWEB) April 08, 2019
Louisville attorney Will Nefzger is serving as co-lead counsel in litigation with the objective to force the perpetrators of the opioid crisis to pay for a plan that will guide the United States out of an epidemic of opioid addiction. Nefzger represents four Kentucky counties and one city in the national litigation situated in United States District Court for the Northern District of Ohio.
More than 1,600 such cases filed across the country have been consolidated under Judge Dan Polster. The case numbers concerned in this lawsuit are 1:18-OP-46276, 1:18-OP-46275, 1:18-OP-46274, 1:18-OP-46273, 1:18-OP-46272. Since January of last year, Judge Polster has gathered lawyers for governments across the country, drugmakers, and distributors to discuss a possible settlement. So far, no deal has been reached and the cases are on track for trials to begin in October 2019.
"Our goal is to force the manufacturers and distributors to pay for the damage that they caused by reimbursing the communities for their expenditures in dealing with the crisis," says Will Nefzger, Attorney and Founding Partner at Bahe, Cook, Cantley & Nefzger, PLC.
A massive settlement out of court could prove beneficial to governments stretched thin by the crisis. Participating in this litigation might be their best route toward obtaining funds for treatment programs and enforcing reforms that will help heal their communities.
Prescription opioids were conventionally used for acute pain and palliative care. In the mid-1990s, opioid drug manufacturers began vigorously marketing their products as a solution to chronic pain management. Drug manufacturers released education campaigns targeted at prescribing doctors, attempting to convince medical professionals that opioids were safe and the likelihood for addiction was very low.
In 1970, Congress passed the Controlled Substances Act (CSA), which allowed private companies to obtain licenses to distribute opioids. In exchange, distributors took on the obligation of reporting any suspicious shipments of opioids to retail pharmacies throughout the U.S. to the Drug Enforcement Agency (DEA).
Among the three large distributors that exist in the United States today, none have ever reported a suspicious shipment of opioids to the DEA anywhere at any time, despite numerous instances of communities receiving abnormally large amounts of opioids throughout the years. For example, a single pharmacy in the town of Kermit, West Virginia, with a population of 392, received 9 million hydrocodone pills over a two-year period. According to a National Prescription Audit study conducted in 2012, there were more painkiller prescriptions than people in several states. For Kentucky, there was an average of 140 prescriptions per 100 people.
"Due to the conduct of the manufacturers and distributors, opioids ravaged many communities across the country," says Nefzger. "These communities have borne the brunt of the epidemic, which has exhausted their, and ultimately their taxpayers', resources."
For Nefzger, the crisis hits home. Raised in a small town in Eastern Kentucky, he saw first-hand opioid addiction's destructive consequences within communities. Nefzger says he has been analyzing the epidemic from a legal perspective over the last two years.
"I am proud to be able to hold these corporations accountable for their conduct, which resulted in this epidemic," says Nefzger. "I am proud to represent communities in my home state and work to see them receive funds to restore their resources and help combat opioids addiction, and the societal ills caused by it, into the future."
For more information, please visit http://www.kentuckyinjurylaw.com.
Share article on social media or email: