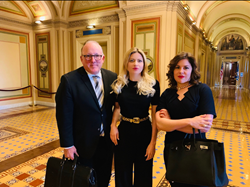 "It is an honor to have been selected to jointly represent Mrs. Papadopoulos. I look forward to an ongoing role in the representation of my client with regard to the U.S. Government's investigation."
WASHINGTON (PRWEB) March 15, 2019
Kristin M. Lausten of Lausten & Co. represented Simona Mangiante Papadopoulos, the wife of former Trump advisor George Papadopoulos, in a private hearing of the U.S. Senate Select Committee on Intelligence on Monday, March 11, 2019 as they continued to investigate alleged Russian interference in the 2016 Presidential election. Kristin was retained as co-counsel alongside John L. Mullen of Franke, Schultz and Mullen.
Kristin made note of the professional and respectful nature of the committee members towards her client and counsel during the interview. She stated, "It is an honor to have been selected to jointly represent Mrs. Papadopoulos. I look forward to an ongoing role in the representation of my client with regard to the U.S. Government's investigation."
Known for her aggressive representation and honest advice, Kristin guided Mrs. Papadopoulos as the committee heard testimony and proceeded with questioning; the contents of which the committee has requested to be kept confidential.
About Kristin M. Lausten: Kristin Lausten is the founding attorney of Lausten & Co., LLC in New Orleans, Louisiana. She represents clients in issues pertaining to complex, commercial, maritime and environmental matters. Kristin has experience in the legal industry, both as an attorney and as a litigation consultant. She advises law firms, legal experts and service companies on both legal and strategic issues and provides brief writing services at the State, Federal and appellate level.
Share article on social media or email: