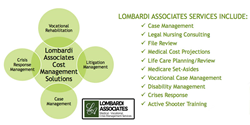 All Lombardi operational systems have been reviewed and updated so that our customers, both new and existing, will continue to receive the highest level of services available in the industry
(PRWEB) April 25, 2019
So far 2019 has been an incredible start to the growth in services offered by Lombardi Associates. As a nation-wide provider of case management, vocational rehabilitation and crisis management services for insurance carriers, TPAs, brokers, employers and attorneys AND a certified woman owned business, Lombardi associates saw the need to continue growing their footprint throughout the country.
The company recently announced a number of open positions as it expands resources and service offerings. In addition, the company has upgraded all customer service, reporting, and quality assurance and quality control standard programs to better satisfy customer needs. According to the president, Tracey Lombardi, "All Lombardi operational systems have been reviewed and updated so that our customers, both new and existing, will continue to receive the highest level of services available in the industry".
Ms. Lombardi also noted that, "As we continue to grow, we will be hiring experienced Vocational Rehabilitation Experts (CRC) and RN/CCMs (bilingual a plus) with a background in workers' compensation to join our team. We are seeking experienced workers' comp professionals who are committed to minimizing claims costs for our customers and to treating every injured worker with the utmost integrity". If you have those qualifications, please send your resume to: email(at)lombardiassociates.com.
Lombardi Associates' vision: We always remember each person is special and deserves the highest level of care. We engage our unique team of premier medical professionals to ensure that every case is handled proactively – right from the start. By always putting the injured party first, our business model will ensure successful medical outcomes.
It's a win-win focus: Each individual receives the best and most medically appropriate care for their injury while our customers realize maximum cost savings on their claims.
To learn more about Lombardi Associates call us today: 973-710-9090 or visit our website: http://www.lombardiassociates.com.
About Lombardi Associates
Lombardi Associates, a National Provider and Certified Woman Owned Business, was founded by Tracey Lombardi, RN-BC, BA, CCM, CNLC, CNLCP, MSCC in 2005 to provide Professional Case Management, Legal Nursing Consulting, File Review, Medical Cost Projections, Life Care Planning/Review and Medicare Set-Asides.
Share article on social media or email: