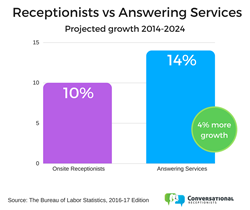 A 4% increase in demand over traditional receptionists is a clear depiction of a trend that's only beginning.
(PRWEB) September 29, 2017
The Bureau of Labor Statistics updates the Occupational Outlook Handbook on a yearly basis. This year's data shows that the number of answering service and call center employees is expected to increase 14% by 2024. Receptionists expected to increase just overall 10% by 2024, with most increases being in the healthcare industry. Other industries outside of healthcare will see significant drops in receptionist employment due to the lower cost and advancing technologies in live answering services and phone systems. Below is an excerpt from the Bureau of Labor Statistic's Job Outlook page for receptionists.
"Employment growth of receptionists in most other industries is expected to be slower as organizations continue to automate or consolidate administrative functions, such as by using computer software or websites to interact with the public or customers. In addition, organizations will continue to use technology, such as automated phone and online systems, further reducing the need for receptionists." -Bureau of Labor Statistics, 2016-17 Edition
As businesses become more aware of the options available to them as receptionist alternatives, more will adopt new technologies and increasingly work with live or automated answering services instead of traditional, onsite receptionists. The healthcare industry alone will see increases in receptionist numbers due to a higher ratio of aging citizens in the U.S. and federal health insurance reform, as the Occupational Outlook Handbook states: "This growth is expected due to an aging population and because federal health insurance reform should increase the number of individuals who have access to health insurance."
As answering services continue to respond to growing demand of their services across industries, the number of answering service employees increases in direct correlation to that demand. Put this way, answering service demand will rise 14% by 2024, compared to just 10% for onsite receptionists. A 4% increase in demand over traditional receptionists is a clear depiction of a trend that's only beginning.
Conversational is a 5-star answering service with a reputation for quality and superior value. One of the few live answering services to offer a full 30 day free trial, Conversational is known for its economical pricing and flexibility. Start a 30 day free trial with no obligation to sign up after the trial period ends here.
Share article on social media or email: