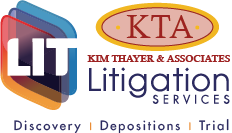 LAS VEGAS (PRWEB) June 03, 2019
Kim Thayer & Associates takes pride in its competent court reporters, outstanding support staff and a positive approach that specializes in helping corporations, small businesses and individuals with all their Court Reporting needs. Kim Thayer, owner of Kim Thayer & Associates is a Certified Shorthand Reporter, Registered Professional Reporter and Certified Real Time Reporter since 1990.
Ali Rizvi, CEO of Litigation Services, said, "We are proud to welcome Kim Thayer and her team of court reporters to the Litigation Services family. Our decision to expand in Fresno, California is a result of the strong demand of our growing client roster. The acquisition is effective immediately."
ABOUT LITIGATION SERVICES
Litigation Services LLC creates exceptional value and cost-efficiency to its clients through centralized discovery management for complex litigation matters. The firm is a swiftly emerging industry leader in providing services that include document processing, court reporting, legal video, trial services, complex case management; as well as ESI collection, processing, and production. Founded in 1999, the company has experienced impressive revenue growth over the last three years. The firm has a coast-to-coast presence.
More information about Litigation Services is available at http://www.litigationservices.com.
Share article on social media or email: