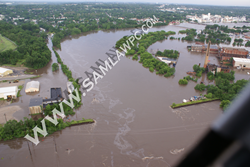 "We look forward to seeking review of the decision by the United States Supreme Court so that our clients can hopefully get their day in court where we can present evidence, the truth, and scientific facts to prove what caused the 2008 Flood in Cedar Rapids."
CEDAR RAPIDS, Iowa (PRWEB) December 05, 2018
The United States Supreme Court is currently reviewing a case filed by property owners who allege that over $6 Billion in property damages occurred when the Defendants, Alliant Energy's (LNT) CRANDIC Railway and Union Pacific Railroad (UNP), loaded weighted and joined rail cars onto over century old, dilapidated rail bridges ahead of a near annual minor flood (Griffioen et al. vs. Alliant Energy, Union Pacific et al., Iowa District Court for Linn County, Civil Case Class Action No. LACV078694). Plaintiffs allege this resulted in two rail bridges collapsing, leading to subsequent catastrophic flooding. The case, involving flooding in 2008, has been winding its way through state and federal courts for years.
The railroads claim that federal law preempts the property owners' right to sue under state law, and since there is no remedy under federal law, the railroads argue they are immune from being sued.
Lawyers representing the property owners, however, argue that when Congress enacted the Interstate Commerce Commission Termination (ICCTA), which deals with transportation issues like rates and disagreements over damaged goods in transit, they did not intend to immunize railroads from garden variety suits for property damage like the present one.
A copy of the original lawsuit filings and scientific facts proving the property owners' claims can be found here and here.
According to an August 2007 GAO report on Railroad Bridges and Tunnels – Federal Rule in Providing Safety Oversight and Freight Infrastructure Investment Could Be Better Targeted, there are over 76,000 railroad bridges in this country, most of which are over 100 years old and the federal regulators at the Federal Railroad Administration have only limited resources for inspecting the bridges and ensuring their safety. The Property Owners submit that a ruling that states should have no role at all in ensuring the safety of the bridges within their borders would be poor public policy.
In appealing to the United States Supreme Court, attorneys for the property owners noted: "We respectfully disagree with the Iowa Supreme Court's ruling and look forward to seeking review of the decision by the United States Supreme Court so that our clients can hopefully get their day in court where we can present evidence, the truth, and scientific facts to prove what caused the 2008 Flood in Cedar Rapids while exposing the great lengths others took to hide the truth from the public."
Share article on social media or email: