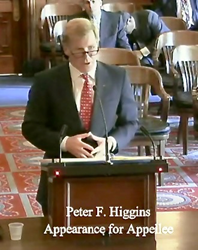 This is not only a great result for our client, but it's a great result for anyone who uses these types of trails in Illinois, because it forces the municipalities to maintain their trails in a safe condition.
Past News Releases
Chicago, IL (PRWEB) December 14, 2017
Personal injury trial lawyer Peter Higgins, a partner at Lipkin & Higgins, recently successfully appealed a case (Case No. 121536) before the Illinois Supreme Court that established the law involving bicycle trails throughout Illinois. The case thus has significant potential benefit for persons -- cyclists, runners, walkers and skaters -- injured on damaged bike paths.
The case stems from an incident in which Higgins' client, Kathy Corbett, was riding her bike on the Skokie Valley Bike Path in Highland Park and was thrown off her bike while riding over an allegedly defective portion of the bicycle trail, of which the defendants allegedly had prior knowledge of, and sustained severe injuries.
Court documents state that the plaintiff alleged her injuries were proximately caused by the willful and wanton acts or omissions of the City of Highland Park. Court documents further state that the City filed a Motion for Summary Judgment, citing a section of the Illinois Tort Immunity Act that states that municipalities are absolutely immune from liability for injuries occurring on "trails," which was granted by the trial court.
Due to the trial court's decision, attorney for the plaintiff Higgins successfully appealed the case before the Illinois Appellate Court, and the City of Highland Park appealed to the Illinois Supreme Court, again seeking to have the case dismissed. However, the Illinois Supreme Court affirmed the Appellate Court's decision, allowing the plaintiff to continue with her case, and determined that the path was not a "trail" and that the City of Highland Park was not to be afforded absolute immunity.
The Supreme Court went on to clarify which trails were covered by the Act and which were not. The trails that are covered and provide municipalities with absolute immunity from lawsuits include "any designated hiking, riding, fishing or hunting trail that retains its original, natural surface and is not improved with asphalt, concrete, crushed aggregate or similar finishes and which is not intended for ordinary 'on-road' type bicycles, bicyclists pulling children in trailers, pedestrians pushing strollers or similar forms of transportation." The trails that are not covered are shared-use paths, paved with asphalt and held out for use by bicyclists, pedestrians and in-line skaters.
"Lipkin & Higgins went the extra mile to pursue a technicality so that the case might remain alive," said Higgins. "We pursued this case all the way to the Illinois Supreme Court for the exclusive purpose of protecting the right of our client to make her case. This is not only a great result for our client, but it's a great result for anyone who uses these types of trails in Illinois, because it forces the municipalities to maintain their trails in a safe condition."
About Peter Higgins, Lipkin & Higgins
Mr. Higgins' practice emphasizes plaintiff's personal injury, railroad/FELA, and medical negligence cases. He has obtained multiple million dollar-plus verdicts and settlements for his clients. He has received the highest possible peer rating from Martindale-Hubbell and has been selected to Illinois Super Lawyers. In 2013, he was part of a team of plaintiff's lawyers that received a $22 million jury verdict in a product liability fire case against a space heater manufacturer that the American Lawyer Magazine recognized as one of the top 100 verdicts in the country. For more information, please call (312) 857- 1710 or visit http://www.lipkinhiggins.com. The law office is located at 222 N. LaSalle Street, Suite 2100, Chicago, IL 60601.
About the NALA™
The NALA offers small and medium-sized businesses effective ways to reach customers through new media. As a single-agency source, the NALA helps businesses flourish in their local community. The NALA's mission is to promote a business' relevant and newsworthy events and achievements, both online and through traditional media. The information and content in this article are not in conjunction with the views of the NALA. For media inquiries, please call 805.650.6121, ext. 361.
Share article on social media or email: