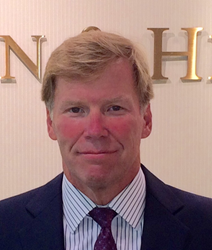 After a two-week trial, we settled with the machine manufacturer on the day before closing arguments, then received a verdict against the railroad.
Past News Releases
CHICAGO (PRWEB) November 29, 2017
Lipkin & Higgins personal injury attorneys recently won a combined $2,000,000 verdict and settlement for a client (plaintiff) in a case (Case No. 14 L 00421 filed in the Circuit Court of Will County) stemming from a workplace accident in which the plaintiff, a railroad track laborer, was struck in the hip by a metal grinding disk that flew off a railroad tie grinding machine.
According to court documents, the plaintiff was working on a "track gang" replacing rail for his employer, which entailed walking approximately 160 feet behind a tie grinding machine and moving tie plates into position over the railroad ties that the machine had just gone over. Court documents further state that as the plaintiff was walking, a disk came loose from the machine and flew toward him, hitting him in the hip, and he sustained injuries to his hip, knee and back and was unable to return to work at the railroad.
Lipkin & Higgins sued the railroad (defendant) under the Federal Employers Liability Act, which was specifically designed to protect injured railroad workers. However, according to court documents, the defendant then sued the manufacturer of the machine, claiming that it was unreasonably dangerous. The case went to trial because the parties were too far apart in settlement negotiations.
"After a two-week trial, we settled with the machine manufacturer on the day before closing arguments, then received a verdict against the railroad," said Chicago personal injury attorney Peter Higgins, co-founder of Lipkin & Higgins.
About Peter Higgins, Lipkin & Higgins
Mr. Higgins' practice emphasizes plaintiff's personal injury, railroad/FELA, and medical negligence cases. He has obtained multiple million dollar-plus verdicts and settlements for his clients. He has received the highest possible peer rating from Martindale-Hubbell and has been selected to Illinois Super Lawyers. In 2013, he was part of a team of plaintiff's lawyers that received a $22 million jury verdict in a product liability fire case against a space heater manufacturer that the American Lawyer Magazine recognized as one of the top 100 verdicts in the country. For more information, please call (312) 857- 1710 or visit http://www.lipkinhiggins.com. The law office is located at 222 N. LaSalle Street, Suite 2100, Chicago, IL 60601.
About the NALA™
The NALA offers small and medium-sized businesses effective ways to reach customers through new media. As a single-agency source, the NALA helps businesses flourish in their local community. The NALA's mission is to promote a business' relevant and newsworthy events and achievements, both online and through traditional media. The information and content in this article are not in conjunction with the views of the NALA. For media inquiries, please call 805.650.6121, ext. 361.
Share article on social media or email: