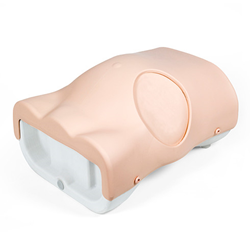 Savannah, GA (PRWEB) January 04, 2018
The Paracentesis Trainer fulfills the fundamental component of core medical training in diagnostic and therapeutic techniques of Paracentesis, for either palpation or ultrasound guided techniques. This simulator is ideal for post-graduate medical training.
The Chest Drain & Needle Decompression Trainer includes the ability to simulate needle decompression of a tension pneumothorax at both the 2nd and 5th intercostal space. Our ATLS range of products offer a cost-effective solution to the simulation equipment needed for the ATLS 10th edition guidelines that will be released this year by the American College of Surgeons.
The well-known PROMPT Flex Birthing Simulator will feature the newest module to the range, the Compression Suture Uterus (link to product). This module allows for the practice of all common types of compression suture as well as ligating the uterine artery.
Limbs staff will be at Booth #417 and will have stations set up for personal hands-on time with the trainers.
Michael DeVita, MD, FCCM, FRCP, FASH, Director of Critical Care, Harlem Hospital Center and Robin Wootten, PhD, MBA, RN Chief Learning Officer for Limbs & Things will host the Spotlight Learning Lab featuring the Paracentesis Trainer on Sunday, January 14th, 8:00 am – 9:30 am. Dr. DeVita and Dr. Wootten will give insights into patient presentation, potential complications of the procedure and lead an interactive discussion about paracentesis and the training needed for all levels of providers to perform the procedure safely. Following the discussion, the participants will be able to perform the procedure and see the model in use.
About Limbs & Things
With over 25 years of research and experience in healthcare simulation, Limbs & Things is a leader in the medical education field. Recognized globally for our superior and comprehensive product offering, our trainers provide a realistic hands-on learning experience for academic and clinical professionals. With distributors in over 80 countries, offices in the UK, USA & Australia, and UK manufacturing, Limbs & Things provides hand-crafted, quality task trainers that aid in the improvement of patient outcomes.
For more information please contact Karen O'Conner at (912) 629-0357 or visit http://www.limbsandthings.com.
Share article on social media or email: