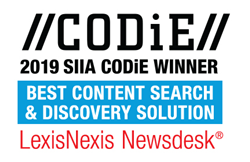 Newsdesk is a "very simple, comprehensive and impressive solution to search and analyze news," says the SIIA expert judge panel.
NEW YORK (PRWEB) June 20, 2019
LexisNexis, a leading provider of content and technology solutions, today announced that LexisNexis Newsdesk® was named the Best Content Search & Discovery Solution in the 2019 SIIA CODiE Awards. The prestigious CODiE Awards recognize the companies producing the most innovative business technology products across the country and around the world.
LexisNexis had five of its products named as finalists in the 2019 SIIA CODiE Awards, including Nexis Uni, Context, and Lexis Advance. LexisNexis PatentSight was also selected as a winner in the "Best Big Data Reporting & Analytics Solution" category.
"We're pleased to receive a CODiE award for LexisNexis Newsdesk — for the third year in a row. With our customers at the forefront of our minds, our product team strives to bring relevant, meaningful products while our customers' needs continue to evolve — a task that keeps us innovating. We're proud to continue the more than 45-year LexisNexis tradition of empowering people to find the information they need, and it is an honor to have LexisNexis Newsdesk recognized by our peers as a leading product." says Manon van der Velde, VP Product Nexis Solutions, a division of LexisNexis.
LexisNexis Newsdesk, a leading global media monitoring and analysis platform, helps customers comprehensively search, analyze, monitor, and share market intelligence. With content in over 90 languages from all over the world, it touts robust coverage of traditional media and social media, including premium and licensed sources. According to the SIIA expert judge panel, Newsdesk is a "very simple, comprehensive and impressive solution to search and analyze news."
"LexisNexis Newsdesk has created an interface to make news more consumable than ever," commented one SIIA judge, "very usable and smart in aggregating multiple formats of news as well as delivering multiple formats of analysis."
The LexisNexis suite of Media Intelligence offerings includes a social analytics tool, a media contacts solution, and a research and analytics service from a team of expert analysts.
"The CODiE Awards have long recognized the most innovative high-impact products in the market and the 2019 winners continue this grand tradition," said Jeff Joseph, SIIA President. "We are thrilled to spotlight these exciting products and the power they have to revolutionize how we do business. Congratulations to all our honorees."
The Software & Information Industry Association (SIIA), the principal trade association for the software and digital content industries, announced the full slate of CODiE winners during a special Award Ceremony in San Francisco on June 12.
The SIIA CODiE Awards are the industry's only peer-reviewed awards program. The first-round review of all nominees is conducted by software and business technology experts with considerable industry expertise, including members of the industry, analysts, media, bloggers, bankers and investors. The scores from the expert judge review determine the finalists. SIIA members then vote on the finalist products, and the scores from both rounds are tabulated to select the winners. 44 awards were given this year for products and services deployed specifically for B2B software, information and media companies, including the all new Best Overall Business Technology Product, awarded to the product with the highest scores of both rounds of judging. 10 awards were given as part of the Company CODiE Awards, which recognize outstanding individuals, companies and teams.
More information about the Awards is available at: siia.net/CODiE.
Details about the winning products can be found at http://www.siia.net/codie/2019-Winners
About LexisNexis Legal & Professional
LexisNexis Legal & Professional is a leading global provider of legal, regulatory, and business information and analytics that help customers increase productivity, improve decision-making and outcomes, and advance the rule of law around the world. As a digital pioneer, the company was the first to bring legal and business information online with its Lexis® and Nexis® services. LexisNexis Legal & Professional, which serves customers in more than 130 countries with 10,000 employees worldwide, is part of RELX, a global provider of information-based analytics and decision tools for professional and business customers.
The Nexis Solutions division of LexisNexis Legal & Professional serves companies and organizations across the globe, offering premier news, corporate information and public records through a portfolio of solutions, including the flagship media intelligence platform, LexisNexis Newsdesk. This unique combination of market-leading content and innovative technology helps business professionals make more insightful decisions by offering them quick and easy access to the latest news, facts, and insights regarding their brand, clients, prospects, competitors, suppliers, and industry trends.
About the SIIA CODiE™ Awards
The SIIA CODiE Awards is the only peer-reviewed program to showcase business and education technology's finest products and services. Since 1986, thousands of products, services and solutions have been recognized for achieving excellence. For more information, visit siia.net/CODiE.
Share article on social media or email: