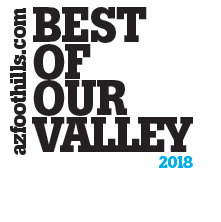 "It is an honor to once again be voted Phoenix Best of Our Valley winners and for the first-time win for Best Lawyer Tucson." - Kevin Rowe, ESQ.
Past News Releases
PHOENIX (PRWEB) December 22, 2017
Each year AZ Foothills Magazine asks their readers to vote for their "Favorites in the Valley." For the third year in a row Lerner and Rowe's legal team was awarded with three wins for the categories of Best Personal Injury Law Firm, Best Bankruptcy Law Firm and Best Criminal Defense Law Firm. They were also honored for the second-time with a win for the Most Philanthropic Company. Plus, one of our law firm's founding attorneys Kevin Rowe was awarded with a first-time win for Best Tucson Lawyer!
"It is an honor to once again be voted winners of these awards and for the first-time win for Best Tucson Lawyer," stated personal injury attorney Kevin Rowe. "2017 was an amazing year and we look forward to all of the new opportunities to get involved and give back within our local communities in 2018!"
More About Lerner and Rowe
For additional information about Lerner and Rowe's Phoenix personal injury attorneys call (602) 977-1900. To learn more about the criminal defense and bankruptcy legal services offered by their partner law firm Lerner and Rowe Law Group, visit lernerandrowelawgroup.com or call (602) 667-7777. Need help filing an application or appeal for Social Security benefits? Contact the law firms other legal partners at Social Security Disability Advocates by calling (602) 952-3200 or online at socialsecuritydisabilityadvocatesusa.com.
To connect with the law firm socially, follow Lerner and Rowe on Twitter, or become a fan of their Facebook page. Also visit lernerandrowegivesback.com to learn more about the community services that the lawyers and legal support team of Lerner and Rowe actively support.
###
Share article on social media or email: