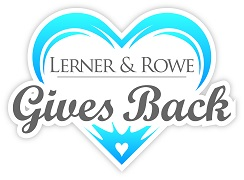 I find it personally unacceptable that there is so little support offered to our veterans after they return from fighting for our lives and the freedoms that we so often seem to take for granted. These men and women put their lives on the line for us. The least we can do is give them a lift up to he
Past News Releases
PHOENIX (PRWEB) January 20, 2018
The law offices of Lerner and Rowe partnered with Fitz Madrid from 98 KUPD and the Maricopa County StandDown to provide local at-risk and homeless veterans with one-day bus passes to assist with any of their transportation needs. KUPD's Troop Transport initiative was created to help ensure a veteran has a ride to work, to an interview, to a VA appointment, to the grocery store, pharmacy, and other necessary daily activities. To help reach the 2000 one-day bus passes goal, attorney Kevin Rowe has stated that the firm will match each donation dollar-for-dollar up to $5000 through their Lerner and Rowe Gives Back foundation.
The bus passes will be available at the Arizona Veterans StandDown Alliance's upcoming Maricopa County StandDown event on January 25th and 26th at the Arizona Veterans Memorial Coliseum at the AZ State Fairgrounds (1826 W. McDowell Road, Phoenix, AZ). Other services offered at the Standdown event include assistance in obtaining and maintaining housing, free legal, medical, dental, education and training opportunities, and financial assistance and counselling, and so much more.
"I find it personally unacceptable that there is so little support offered to our veterans after they return from fighting for our lives and the freedoms that we so often seem to take for granted. These men and women put their lives on the line for us. The least we can do is give them a lift up to help acclimate successfully back into society," said attorney Kevin Rowe. "That is why we are actively involved in giving back and supporting our veterans through our Lerner and Rowe Gives Back foundation in different capacities."
More details about KUPD's Troop Transport, the Maricopa County StandDown event, and how to make an online donation can be found at squareup.com.
More About Lerner and Rowe
For additional information about Lerner and Rowe's Phoenix personal injury attorneys call (602) 977-1900. To learn more about the criminal defense and bankruptcy legal services offered by their partner law firm Lerner and Rowe Law Group, visit lernerandrowelawgroup.com or call (602) 667-7777. Need help filing an application or appeal for Social Security benefits? Contact the law firms other legal partners at Social Security Disability Advocates by calling (602) 952-3200 or online at socialsecuritydisabilityadvocatesusa.com.
To connect with the law firm socially, follow Lerner and Rowe on Twitter, or become a fan of th beir Facebook page. Also visit lernerandrowegivesback.com to learn more about the community services that the lawyers and legal support team of Lerner and Rowe actively support.
Share article on social media or email: