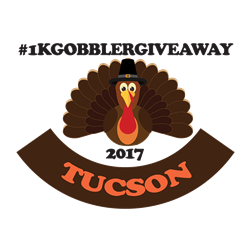 "We are extremely excited about giving away 1,000 FREE frozen turkeys to 1,000 Tucson families to enjoy this Thanksgiving." ~Kevin Rowe
Past News Releases
TUCSON, Ariz. (PRWEB) November 11, 2017
Lerner and Rowe is teaming up with Tucson Appliance and Furniture Company to put 1,000 turkeys on 1,000 Tucson tables this Thanksgiving! The 1K Gobbler Giveaway will take place Sunday, November 19th at the Boys and Girls Club of Tucson Frank and Edith Morton Clubhouse (3155 E. Grant Rd., Tucson, AZ.) from 1 p.m. – 4 p.m. Local families can pick up a FREE frozen turkey for their family, enjoy FREE food, FREE entertainment and more while supplies last! And since giving away 1,000 free turkeys (that's 9 TONS of turkey meat that Delivery Doctors and eegee's graciously agreed to transport) isn't impressive enough, families attending the event have the chance to win a range (up to $1,000 value courtesy of Tucson Appliance and Furniture Company).
"Chris and I met by chance about a month ago. We started conversing about our businesses and our unique marketing styles, as well as how important we think it is to give back and support those struggling and living with less in Tucson. From that chance meeting one thing led to another and the 1K Gobbler Giveaway took flight. Additionally, the support we've since received from the Boys and Girls Club of Tucson Frank and Edith Morton Clubhouse, Costco, Delivery Doctors and eegee's has been greatly appreciated and integral to making this community event take place," said attorney Kevin Rowe. "I've said it before and I'll say it again, we really can do more to help those in need by joining resources and giving back. We are extremely excited about giving away 1,000 FREE frozen turkeys to 1,000 Tucson families to enjoy this Thanksgiving."
Representatives from Costco will also be present offering a special membership incentive for Tucson residents and slices of pumpkin pies topped with whipped cream! These pies are just a few of the 9,000,000 pies that Costco produces each year during the Thanksgiving season.
For more information about the 1K Gobbler Giveaway, go to TucsonTurkeys.com.
More Details and How to Connect with Lerner and Rowe
For additional information about Lerner and Rowe's Tucson personal injury attorneys call (602) 977-1900. To learn more about the criminal defense and bankruptcy legal services offered by their partner law firm Lerner and Rowe Law Group, visit lernerandrowelawgroup.com or call (520) 667-7777. Need help filing an application or appeal for Social Security benefits? Contact the law firms other legal partners at Social Security Disability Advocates by calling (602) 952-3200 or online at socialsecuritydisabilityadvocatesusa.com.
To connect with the law firm socially, follow Lerner and Rowe on Twitter @LernerandRowe, or become a fan of their Facebook page at /LernerandRowe. Also visit lernerandrowegivesback.com to learn more about the community services that the lawyers and legal support team of Lerner and Rowe actively support.
More About Tucson Appliance & Furniture Company
Tucson Appliance Company is a family owned business and an active part of the Tucson community. Created by founder Bill Edwards in 1993, Tucson Appliance started out as Priority Appliance Company. Chris Edwards, his son, joined Priority Appliance soon after it was created. Chris became his father's partner in 1997 and they changed the name to Tucson Appliance and Furniture Company. With a name change came a new strategy for Chris to be the spokesman for the family business. A new name and new strategy came with new look for the store, centering on Chris's alma mater school colors of purple and gold.
Chris, a Tucson native, attended Sabino High School. He is a Tucson Conquistador, Rotarian and upholds the family commitment to be involved in a multitude of organizations in Southern Arizona. Learn more about Tucson Appliance and Furniture and their community involvement at tacappliance.com or socialize with them on Facebook at /Tucson-Appliance-Company-124318167618673/.
Share article on social media or email: