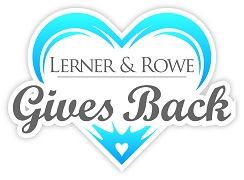 "The Friendship Circle of Arizona offers an amazing opportunity for teens of all abilities to interact and build friendships that they may normally have missed out on." -Kevin Rowe
SCOTTSDALE, Ariz. (PRWEB) January 27, 2018
For the third consecutive year, the law offices of Lerner and Rowe are pleased to sponsor the annual Jonathan's Walk4Friendship. The 1 mile fundraiser walk takes place on Sunday, January 28th from 12:30 p.m. to 4:00 p.m. at Chaparral Park in Scottsdale, AZ. 100% of proceeds raised from walkers, individual and corporate donations, and sponsorships such as Lerner and Rowe's will be used to support the 40 supportive programs and other many other services offered by Friendship Circle of Arizona.
Friendship Circle of Arizona is a nonprofit organization that positively impacts children with special needs and their families while fostering a culture of kindness and inclusion within Arizona's teenage community.
"As a parent, I understand the value of showing our youth the importance of learning to accept others and not exclude them just because they are different," said attorney Kevin Rowe. "The Friendship Circle of Arizona offers an amazing opportunity for teens of all abilities to interact and build friendships that they may normally have missed out on. That is why it is our pleasure to once again sponsor Jonathan's Walk4Friendship that directly benefits the supportive efforts of the Friendship Circle."
For more details about the many community partners the Arizona law offices of Lerner and Rowe support in Scottsdale and surrounding cities, visit lernerandrowegivesback.com.
More about Lerner and Rowe
For additional information about Lerner and Rowe's Phoenix personal injury attorneys call (602) 977-1900. To learn more about the criminal defense and bankruptcy legal services offered by their partner law firm Lerner and Rowe Law Group, visit lernerandrowelawgroup.com or call (602) 667-7777. Need help filing an application or appeal for Social Security benefits? Contact the law firms other legal partners at Social Security Disability Advocates by calling (602) 952-3200 or online at socialsecuritydisabilityadvocatesusa.com.
To connect with the law firm socially, follow Lerner and Rowe on Twitter, or become a fan of their Facebook page.
###
Share article on social media or email: