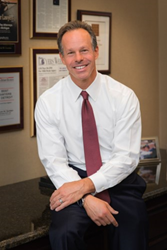 New advertising guideline "puts an end to how lawyers use the internet and social media to market legal services to consumers." - Steve Gursten
FARMINGTON HILLS, Mich. (PRWEB) July 22, 2018
A recent change to the guidelines for attorney advertising in Michigan will make it very difficult for lawyers and law firms to advertise legal services on the internet and social media.
The new "disclosure requirements, coupled with the space limitations that currently exist for online ads, effectively put an end to how lawyers use the internet and social media to market legal services to consumers," says insurance attorney Steven M. Gursten of Michigan Auto Law. "Despite laudable intentions, the unintended consequences make it now impossible for lawyers to participate in most forms of paid online advertising. We have a new ethics standard that is attempting to regulate 20th Century legal services like television, billboards, bus wraps and yellow pages in a 21st Century world."
On May 30, 2018, a unanimous Michigan Supreme Court announced:
"Services of a lawyer or law firm that are advertised under the heading of a phone number, web address, or trade name shall identify the name, office address, and business telephone number of at least one lawyer responsible for the content of the advertisement."
The new rule takes effect on September 1, 2018.
In addition to infringing on commercial speech on the internet and in social media ads, the new standard will also cause many law firms to alter their long-standing names. This will force law firms to make costly changes to their office signs, marketing materials, branded clothing and other marketing items such as pens, coffee mugs and flash drives.
To learn more, please check out Michigan Auto Law's blog post here.
Michigan Auto Law attorneys and legal experts have been featured in local, state and national publications. They are selected for their expertise in auto law matters. If you are in the media and would like to speak with an expert for your story, contact Todd Berg at (248) 353-7575 or TBerg@michiganautolaw.com.
About Michigan Auto Law
At Michigan Auto Law, our lawyers practice exclusively in helping people who've been hurt in car truck, and motorcycle accidents in the state of Michigan. More than 98 percent of our lawsuits resolve in substantial settlements, because our focus is combined with an excellent trial record that defense attorneys pay to avoid, including the top-reported auto accident jury verdicts and settlements in Michigan.
Michigan Auto Law has offices in Farmington Hills, Detroit, Sterling Heights, Grand Rapids and Ann Arbor. For more information, visit https://www.michiganautolaw.com or call (800) 968-1001.
Contact Information
Todd Berg
Michigan Auto Law
https://www.michiganautolaw.com/
+1 (800) 968-1001
Elizabeth Warner
Michigan Auto Law
https://www.michiganautolaw.com/
+1 (800) 968-1001
Share article on social media or email: