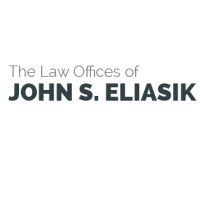 CHICAGO (PRWEB) September 24, 2019
In an effort to help inform motorists in the state of Illinois about the number of car accidents, the common causes of accidents and best ways to prevent accidents, the Law Offices of John S. Eliasik has released an infographic to empower the public with a wide variety of accident numbers.
The Law Offices of John S. Eliasik is a personal injury and workers' compensation law firm that represents hardworking people throughout Chicagoland.
"This infographic is very eye-opening," a spokesperson for the Law Offices of John S. Eliasik said. "The number of accidents in Cook County account for 48 percent of crashes in Illinois and 44 percent of accidents that result in injury."
The spokesperson went on to point out that the infographic reveals that as a result of improper seat belt use, there were 895 fatal crashes, resulting in 991 total deaths - that's 9 injuries per hour and two fatalities per day.
The infographic, which can be viewed here, empowers motorists with statistics on common causes of accidents; impacts of a car accident; rates of accidents per driving age; improper seat belt use, and top 10 deadliest counties.
For example, as it relates to the medical and health impact of a car accident. In the United States, more than 100,000 motor vehicle accidents every year involve a driver who is too tired to operate a vehicle safely. Speeding is the second most common cause of motor vehicle accidents in the United States, according to the infographic.
The top 10 deadliest counties for car accidents in Illinois are Hardin, Pope, Gallatin, Cumberland, Iroquois, Jersey, Clay, Washington, Wayne, and Randolph.
For more information, please visit: https://www.eliasik-law.com/our-firm/ and https://www.eliasik-law.com/blog/
About The Law Offices of John S. Eliasik
We are dedicated to helping injured people and families rebuild their lives after serious accidents. Aggressive and results-driven, our firm works tirelessly to help our clients get all of the medical care and compensation they deserve.
Contact Details:
John S. Eliasik
180 North LaSalle Street Suite 3700
Chicago IL 60601
Toll Free: 800-582-2119
Phone: 312-981-0408
Source: The Law Offices of John S. Eliasik
###
Share article on social media or email: