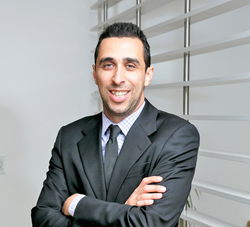 "This case is about public safety, and I am very happy the jury sent a clear message to Durham School Services (Defendant), and other school bus companies ..." ~ Andy Basseri
Beverly Hills, CA (PRWEB) September 28, 2017
Personal Injury Attorney Andy Basseri from The Law Offices of Andy Basseri, has been awarded a $36.1 Million Dollar verdict on behalf of his client, Isabella Escamilla Sanchez.
Court documents specify that six-year old Isabella was struck by a vehicle as she was crossing the street in Highland to get to her bus stop. She suffered a traumatic brain injury which requires 24 hours a day nursing care for the remainder of her life. Isabella's injuries included a broken neck, pelvis, arm and leg. "This case is about public safety, and I am very happy the jury sent a clear message to Durham School Services (Defendant), and other school bus companies, that they must follow their own rules regarding mid-block crossings and turning on bus red lights and stop signs or there will be major consequences," says Andy Basseri. (Case #1309504 Court of Record San Bernardino Courthouse)
The Law Offices of Andy Basseri, located in Beverly Hills and Rancho Cucamonga, specializes in all types of personal injuries, resulting from accidents involving automobiles, trucks, motorcycles, bicycles, dog bites/animal attacks, and slip and falls.
Share article on social media or email: