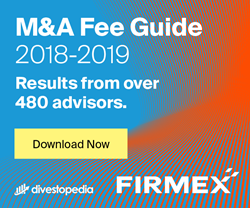 As the first and only comprehensive global study of M&A advisory fees, the investment banking community has come to rely on these insights to better serve their clients.
Past News Releases
TORONTO (PRWEB) November 15, 2018
Firmex today released new research on merger and acquisition advisory fees prepared in conjunction with Divestopedia. Firmex and Divestopedia surveyed over 480 investment bankers and M&A advisors worldwide to compile the third annual M&A Fee Guide 2018-19 report. Contributors BDO Canada and Dentons share their insights on the key findings in the report.
Highlights in the 2018-19 Report:
The latest data shows that M&A success fees vary notably by region and major city centers. Given these significant regional differences, M&A advisors should 'think locally' when assessing their fees and not rely exclusively on national averages.
This year's report digs deeper into engagement terms in M&A sell-side assignments. 55% of respondents indicated that their success fee is paid in full on closing, regardless of when the components of the purchase price are received by the vendor.
66% of respondents indicated that it is more common to include success fee amounts up-front in the engagement letter. The majority of respondents — 61% — said it was not common practice to include a break fee in the engagement letter.
M&A advisors were asked how they are reimbursed for expenses. Only half of respondents indicated that they charge their clients for out-of-pocket expenses; 23% said they are reimbursed for the cost of a data room. This suggests that advisors are increasingly inclined to view these costs as "value adds" or strategic investments.
"In the three years that we have been conducting this research, the M&A Fee Guide has become an indispensable resource for M&A practitioners and business owners," says Mark Wright, CMO, Firmex. "As the first and only comprehensive global study of M&A advisory fees, the investment banking community has come to rely on these insights to better serve their clients."
"When planning an exit, business owners often find themselves in unfamiliar territory when it comes to retaining the services of an investment bank or M&A advisory firm," says John Carvalho, President of Divestopedia and a practicing M&A professional. "This annual M&A Fee Guide sheds light on a subject that is rarely discussed in public forums."
"With data collected from respondents in a greater number of geographies, this guide is becoming an increasingly valuable tool for business owners looking at a potential sale," said Adam Mallon, Managing Director, Transaction Advisory Services, BDO Canada LLP. "Sale mandates are complicated and, as this research shows, the associated fees can be calculated in many different ways. While price is an important element, it is not the most important one. When selling a business, engagements can be long, intense, and often emotional. Business owners should make sure that their advisor is experienced, qualified, and a good fit personally."
Get the Full Report
To download a copy of the M&A Fee Guide 2018-19, visit: https://fir.mx/2OHcvxM
About Divestopedia
Divestopedia – The Middle Market M&A Education Site – is a resource for entrepreneurs who want to sell their business for the best price and terms. Whether you are thinking of selling, have started a sales process, or are post deal, we aim to arm you with the knowledge required to maximize value and limit your downside risk.
About Firmex
Firmex is a global provider of virtual data room solutions. As one of the world's most widely used virtual data rooms, Firmex supports complex processes for organizations of all sizes including due diligence, compliance, and litigation. Whenever professionals need to share sensitive documents beyond the firewall, Firmex is their trusted partner. A Firmex subscription provides simple, safe, and stress-free document sharing without hidden costs or complexity. Since 2006, Firmex has helped over 120,000 companies worldwide take control of their confidential documents.
Share article on social media or email: