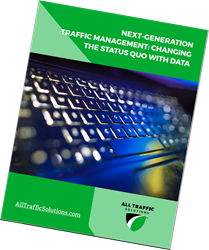 HERNDON, Va. (PRWEB) December 11, 2017
All Traffic Solutions, the leader in cloud-based traffic management solutions for law enforcement, transportation and smart cities, has released a new white paper for law enforcement titled Next-Generation Traffic Management: Changing the Status Quo with Data. The white paper suggests that Law Enforcement must adopt a cloud-based, data-driven approach to traffic calming and traffic safety in order to overcome the many challenges associated with the reactive, resource-driven tactics employed by many law enforcement agencies, and provides proven strategies agencies can implement to improve safety and save lives, including:
How to improve traffic flow municipality-wide by leveraging data gathered from portable traffic devices
Using traffic data as evidence to respond to citizen complaints and strengthen community relations
Simplifying traffic management reporting, including examples of pre-packaged reports on speed, volume, vehicle counts and classification, and enforcement priorities by location, date and time Importance of real-time insights and alerts
How a central online traffic management platform increases productivity, improves efficiencies, and reduces paperwork and file management.
Included in this white paper are links to a variety of sample reports that were generated in TraffiCloudTM, All Traffic Solutions' cloud-based transportation management ecosystem that allows users to remotely manage traffic devices and data from any Internet connection.
Those who wish to download the white paper may do so via this link.
Learn more about connected solutions for Law Enforcement from All Traffic Solutions.
For more information about All Traffic Solutions' connected traffic management solutions, visit the company's website.
About All Traffic Solutions
Located outside Washington D.C. in Herndon, Virginia, All Traffic Solutions is consistently recognized as a leading innovator in the traffic safety industry for radar speed and variable message displays, imaging products and intelligent transportation systems, delivering groundbreaking levels of service and product capability. By integrating cloud technology into all of its products, All Traffic Solutions allows customers to manage all their equipment and data remotely through a browser, resulting in better traffic safety outcomes and initiatives related to vehicle-to-infrastructure solutions and smart cities. For more information, visit http://www.AllTrafficSolutions.com.
Additional Resources
● Follow All Traffic Solutions on LinkedIn: https://www.linkedin.com/all-traffic-solutions
● Follow All Traffic Solutions on Twitter: https://www.twitter.com/alltraffsol
● Like All Traffic Solutions on Facebook: https://www.facebook.com/AllTrafficSolutions
Share article on social media or email: