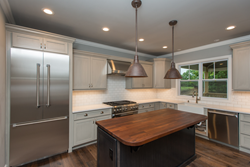 Lexington, KY (PRWEB) September 30, 2017
Building a custom home is an opportunity of a lifetime. However, many people afforded this luxury are unaware of where they should begin. Realtor Michael B. Prather, at The Prather Team of Keller Williams, shares advice on the top three items to think about before building a dream home.
No. 1: Create a budget. "You need to know your monthly financial obligations and what you are comfortable allotting toward your house payment," said Prather. When building a home, the total cost to build will likely increase over the building process as one makes final selections of flooring, kitchen cabinetry, plumbing fixtures, etc.
"Most people tend to upgrade these items due to the many wonderful ideas found online or through designers," added Prather. "Lenders will share with you the maximum you are approved to spend for a new home, but my advice is to stay at or below 80% of that top dollar amount. For example, if a lender says you can afford $2,000 a month as a mortgage payment, you should back that amount down to $1,600 or less."
No. 2: Choose the right builder. "This is the most important decision you'll make during the entire home building process so choose wisely," stressed Prather. "Ask for references of past build clients and to see some of the builder's completed projects. If you are allowed to tour the homes of previous build clients that is a great sign of the builder's level of customer care and service during and after the sale. Lastly, you want to know the financial strength and credit history of your builder to ensure he or she is capable of completing your project and will leave you with no mechanic liens after the sale."
No. 3: Keep resale in mind when designing your home. "While most people start the building process thinking they will never sale, it is rare that someone builds a home that they or a family member doesn't have to sell at some point in time. Don't make your home so custom to your particular needs and wants that it will be a hindrance to sell without a major overhaul," advised Prather. "You also want to consider the cost of return on materials used throughout the home and make sure your floor plan will appeal to a wide variety of buyers if you do ever have to sell. Lastly, find a trusted, knowledgeable Realtor who can watch over your best interests and guide you through this wonderful experience of getting a custom house that most people only dream of."
About Michael B. Prather, The Prather Team, Keller Williams
Michael B. Prather works with buyers and sellers in Georgetown, Lexington, Midway, Nicholasville, Paris, Richmond, Versailles and Winchester, KY. The Prather Team believes that its team doesn't stop with its team members, as its clients, allied businesses and members of the community are all part of the team. For more information, please call (859) 983-2732, or visit http://www.pratherteam.com.
About the NALA™
The NALA offers small and medium-sized businesses effective ways to reach customers through new media. As a single-agency source, the NALA helps businesses flourish in their local community. The NALA's mission is to promote a business' relevant and newsworthy events and achievements, both online and through traditional media. The information and content in this article are not in conjunction with the views of the NALA. For media inquiries, please call 805.650.6121, ext. 361.
Share article on social media or email: