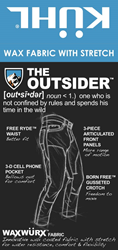 Salt Lake City, Utah (PRWEB) October 04, 2017
KÜHL has filed suit against L.L. Bean for the alleged unauthorized use of its trademark 'The Outsider.' The suit was filed in the U.S. District Court for the District of Utah Central Division alleging trademark infringement.
KÜHL owns all rights, title and interest in U.S. Trademark Registration No. 5,253,591 for the mark 'The Outsider,' which was registered in June of 2015. 'The Outsider' mark was registered for International Class 025 for "rugged outdoor clothing, including belts, bottoms, hats, jackets, pants, shirts, shorts, t-shirts, and tops." KÜHL filed suit in response to the 'Be an Outsider' advertising campaign launched by L.L. Bean to promote the distribution of their own clothing and brand.
KÜHL's official hangtag for The Outsider pant states: 'THE OUTSIDER : < 1.) One who is not confined by rules and spends his time in the wild.
One of the largest privately held apparel brands in the outdoor industry, KÜHL does well over $200 million in retail sales in the U.S. The iconic brand sells approximately one million pair of its legendary pants per year, including the popular style The Outsider. Additionally, KÜHL has owned and operated its flagship store on historic Main Street in Park City since January 23, 2016. Included in L.L. Bean's 'Be an Outsider' campaign is the promotion of its new store, opening in Park City in 2018.
L.L. Bean applied for 'Be an Outsider' with the U.S. Patent and Trademark Office on June 30, 2017 for a 'service mark' for retail store services, and retail services in computerized online retail store and mail order catalog services.
Interested Parties can reference Civil Action No. 217-cv-01100-EJF for more information.
About KÜHL®         Born in the Mountains®
KÜHL®            [kül] German < 1.) English Translation: COOL
KÜHL® is a product-driven apparel company with a passion for the outdoor experience. We are a group of artists, designers and athletes who collaborate to create great products that are timeless and in a constant state of evolution. Born in the Mountains, our innovative designs and technical fabrics have been enhancing movement and outfitting adventures for 30 years.
Share article on social media or email: