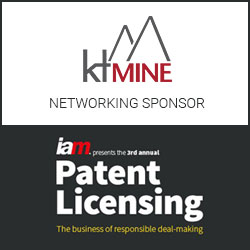 Chicago, IL (PRWEB) September 19, 2017
ktMINE, a Chicago based intellectual property (IP) information services firm, announced today that they will be a Network Sponsor of the 2017 Intellectual Asset Management (IAM) Patent Licensing conference, taking place on September 20, 2017, in San Francisco, California. This is the 3rd annual conference and will bring together experts from across the licensing world with a focus on responsible deal making in an uncertain market.
ktMINE's Eric Podlogar, Market Lead of IP Strategy & Valuation, will be representing ktMINE at the conference. As a regular contributor of IP data to IAM's research and publications, ktMINE supports efforts to fuel greater market transparency and pricing efficiency through transactional insights. ktMINE allows organizations to focus less on the collection of IP data and more on IP strategy, enabling the pursuit of new opportunities across all major IP practice areas including litigation, licensing and transactions, prosecution, and mergers and acquisitions. Learn more about ktMINE for IP Strategy, Valuation & Risk from their website: ktmine.com/ip-strategy-valuation.
IAM Patent Licensing offers thought-provoking discussions on the business of licensing, the standards regime, cross-border licensing and business models, and the future of licensing. The presenter, IAM, has 14 years of experience as a world's leading IP business information provider. The first session of this one-day conference will be "The business of licensing 2.0" and will look at how Sonos, GE, and Boeing are adapting licensing business models to use IP as a part of broader business deals.
About ktMINE
ktMINE, headquartered in Chicago, IL, is an IP information firm founded in 2008. Focused on minimizing research time, maximizing analysis power, and strengthening business decisions, ktMINE provides businesses across the globe access to insights on industry players, technologies, and developments. For more information, visit http://www.ktmine.com, or contact ktMINE to schedule a meeting.
Share article on social media or email: