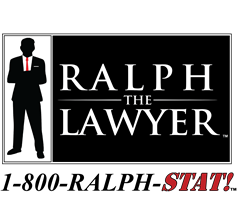 TAMPA, Fla. (PRWEB) November 10, 2018
Ridesharing is becoming more popular than ever, and with more and more people relying on services such as Uber® and Lyft® for transportation, the laws protecting both riders and drivers are evolving as well.
Major rideshare services maintain insurance for both drivers and passengers, some even covering drivers and passengers for up to $1 million while using ride-sharing services. There may also be $1 million bodily injury coverage for drivers, their passengers and those injured in other vehicles, depending on fault. And that's necessary because as the number of ridesharing cars is greater than ever, so are the number of accidents.
Ralph M. Guitto III, a.k.a Ralph The Lawyer, is a fourth-generation Tampa native that has been practicing law in the area for nearly three decades. All injury claims are handled on a contingency fee basis. That means you pay no fees or costs unless he wins your case.
"The biggest piece of advice I would give to rideshare riders is to always wear your seatbelt, even in the backseat of the car," says Ralph. Failing to do can cause serious injuries and also lessen the value of your claim. Not everyone does this, but it's vital that you do to ensure you're protected in case of an accident."
Ralph also says while cars are marginally inspected by the ridesharing services, they often aren't as well-maintained by the independent-contractor drivers as is necessary. "Drivers do have their vehicles inspected, but they are still responsible for ensuring they are maintained correctly even after that inspection," Ralph reminds all rideshare drivers. "Always make sure your car is in working order, from the brake lights to the windshield wipers, every time you pick up a passenger. It's essential to making sure you're insured and protected."
For drivers that are victims of someone else's negligence, they have rights that include compensation for injuries caused by the accident, as well as compensation for missed work.
The extent of insurance coverage, and how it applies to the facts of your claim, requires the advice of a lawyer who focuses on this type of litigation. Only an attorney focusing in this area can help you determine your rights as the victim of an accident.
Watch WFLA's Daytime TV's, Monday, October 26th episode to see Ralph the Lawyer's interview on Uber® and Lyft® passenger and driver rights.
For more information on retaining a lawyer following an accident as either a rider or driver during a rideshare, contact Ralph The Lawyer and his team at 1-800-RALPH-STAT! or by email at Ralph@RalphtheLawyer.com 24 hours a day, seven days a week. Making this the first call or email after an accident is the best way to protect all of your rights.
Share article on social media or email: