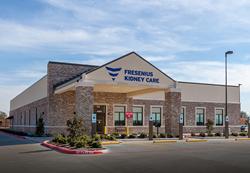 KB Exchange Trust is the leading provider of medical DST properties.
Los Angeles, CA (PRWEB) October 20, 2017
KB Exchange Trust, an affiliate of Kingsbarn Realty Capital, acquired 14 properties located in New York, New Jersey, Massachusetts, Pennsylvania, Ohio, Illinois, Iowa, Texas, Missouri, and California. The aggregate purchase price for the 14 properties, which were acquired in a four-month span between April and August, totaled over $65.9 million.
Nine of these properties are newly-constructed dialysis clinics leased to Fresenius Medical Care. In addition, three hold newly-extended leases to Fresenius Medical Care; one property is leased to DaVita; and one is leased to Walgreens. KB Exchange Trust has quickly broadened their portfolio to meet strong demand from accredited investors.
KB Exchange Trust structures their commercial real estate offerings as Delaware Statutory Trusts (DSTs). A DST is a separate legal entity which qualifies under Section 1031 as a tax-deferred exchange. This secured-investment structure allows investors fractional ownership to help diversify their investment portfolios and acquire higher-quality properties.
"We had a busy summer with many acquisitions, mostly for our medical DST program," stated KB Exchange Trust managing partner Jeff Pori. "We saw early in the year that the pipeline for third and fourth quarter deliveries was substantially less than the second quarter. We decided to load up on inventory early so that we would have enough DST product to provide through the end of 2017."
Over the past four years, KB has acquired 30 healthcare-related properties leased to investment-grade, publicly-traded tenants for its various 1031-exchange-related programs.
These investment-grade tenants include Fresenius Medical Care, DaVita, and Walgreens. Fresenius Medical Care is the world's largest provider of dialysis services for chronic kidney diseases and is publicly traded on the New York Stock Exchange. DaVita Healthcare Partners, Inc. ("DaVita"), a Fortune 500® company, is a leading provider of kidney care in the United States. Walgreens is the largest drugstore chain in the United States, with over 8,200 drugstores in all 50 states, the District of Columbia, Puerto Rico, and the U.S. Virgin Islands.
About KB Exchange Trust
KB Exchange Trust is a sponsor of DST-structured real estate investments, specializing in single-tenant, net-leased properties. The sponsor's experienced management team has purchased and closed over $2 billion of fractional ownership properties for its 1031 investor clientele.
KB Exchange Trust DST interests are securities as defined by the Securities and Exchange Act of 1934 and may be sold only to "accredited investors" who meet certain minimum annual income or net-worth thresholds. The securities are subject to legal restrictions on transfer and there is no market for resale. These securities are being offered in reliance on an exemption from registration, and neither the U.S. Securities and Exchange Commission nor any other regulatory authority has passed upon the merits of an investment in the securities or passed upon the adequacy or accuracy of the offering materials describing the securities. Investing in securities involves risk, and investors should be able to bear the loss of their investment.
About Kingsbarn Realty Capital
Kingsbarn Realty Capital is a real estate private equity firm focused on acquiring commercial property assets throughout the United States. Offering both direct and indirect real estate investments, Kingsbarn provides clients with the opportunity to invest in its various structured real estate private placements. Kingsbarn's management team has extensive experience developing, managing, and sponsoring a diverse array of stabilized core properties and income-driven investment funds. Competitive, risk-adjusted returns are offered to Kingsbarn investors through diversified investment programs.
Share article on social media or email: