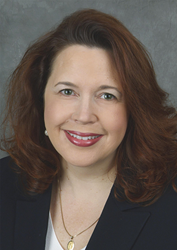 Kansas City, MO (PRWEB)
September 15, 2017
Nathalie C. Elliott, a family law attorney at the Levy Craig Law Firm in Kansas City, MO, was diagnosed with leukemia on November 10, 2010. According to the Leukemia & Lymphoma Society (LLS), approximately every three minutes one person in the United States is diagnosed with a blood cancer, such as leukemia.
In order to help the LLS raise funds for others diagnosed with a blood cancer, Elliott, for the seventh consecutive year since she was diagnosed, will be participating in the voluntary health agency's Light The Night Walk on Saturday, September 30, at Cleveland University -- Kansas City, 10850 Lowell Avenue, Overland Park, KS. Light The Night Walk funds treatments that are saving the lives of patients today. LLS is making cures happen by providing patient support services, advocating for lifesaving treatments and pioneering the most promising cancer research anywhere.
Elliott and her team, which walks with her, to date have raised over $25,000 for LLS. In addition to much-needed funds, the team raises awareness of the LLS and the event by having additional new people added to the team each year. Elliott also has a team fundraising page each year for people to donate or register to walk with her.
To donate money to the Nathalie C. Elliott team or to register to walk with them, please visit http://pages.lightthenight.org/mid/KSCity17/teamnat.
About Nathalie C. Elliott, Levy Craig Law Firm

Nathalie C. Elliott dedicates her practice exclusively to family law, and is one of a small number of attorneys in the Kansas City area who regularly practices collaborative divorce for people who wish to resolve their family law matters outside of litigation. In addition to family law, the Levy Craig Law Firm focuses on corporate law services, insurance cases, litigation, mergers and acquisition, taxation and trust and estates. For more information, please call (816) 414-2592, or visit http://www.levycraig.com.
About the NALA™

The NALA offers small and medium-sized businesses effective ways to reach customers through new media. As a single-agency source, the NALA helps businesses flourish in their local community. The NALA's mission is to promote a business' relevant and newsworthy events and achievements, both online and through traditional media. The information and content in this article are not in conjunction with the views of the NALA. For media inquiries, please call 805.650.6121, ext. 361.
Share article on social media or email: