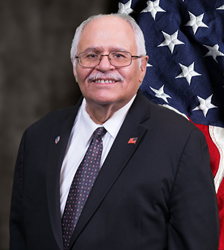 I will ensure that the people of Will County will continue to have fair and efficient access to our judicial system as demanded by our great constitution. - Judge David Garcia
SPRINGFIELD, Ill. (PRWEB) January 25, 2018
Judge David Garcia has announced that he is a candidate in the Democratic primary election for Circuit Judge for the 12th Judicial Circuit Court of Will County. The Illinois primary will take place March 20, 2018.
As part of his campaign, Judge Garcia will hold a fundraising event from 6 p.m. to 9 p.m. Jan. 30
at Prairie Bluffs Golf Course and Banquets, 19433 Renwick Road, Joliet, Illinois
Judge Garcia has served as an associate judge in the 12th Judicial Circuit Court's family division since 2013. He was the first Latino judge to be appointed to the circuit court in Will County, being selected from amongst 50 candidates for the position.
Judge Garcia believes that his strong work ethic, knowledge of the law and sense of community service make him the best candidate for the circuit judge position.
"I will ensure that the people of Will County will continue to have fair and efficient access to our judicial system as demanded by our great constitution," he said.
Judge Garcia was born in Chicago to parents who moved from Puerto Rico. His parents worked factory jobs and instilled in him the importance of hard work and perseverance.
Judge Garcia put that work ethic into practice when he earned his law degree at night school while still supporting his own family by working a day job. He received his juris doctor from the Kent School of Law in Chicago and was admitted into the Illinois Bar Association in 1995.
Before his appointment, Judge Garcia worked for 18 years as an attorney at David Garcia and Associates, P.C., focusing on real estate law, divorce, traffic law and criminal defense. He took on several pro bono cases and participated in free legal seminars to educate the public. He also founded the Latino Bar Association of Will County in 2014.
A resident of Joliet, Judge Garcia has been married to his wife, Chris, for 41 years and has two children and three grandchildren. He has been a leader in the community, serving on the executive boards for the: Boy Scouts of America; Spanish Community Center; Will County Center for Community Concerns; and Warren Sharp Community Center.
Judge David Garcia is a candidate for the Democratic Party's nomination for Circuit Judge for the 12th Judicial Circuit Court of Will County. In 2013, he was the first Latino Associate Judge appointed to the 12th Judicial Circuit Court. Judge Garcia has extensive legal experience, focusing on family law, criminal defense, real estate and traffic law. For more information about Judge Garcia or to donate to his campaign, visit https://davidgarciaforjudge.com.
Share article on social media or email: