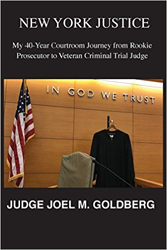 Forty years of the most fascinating criminal cases in America
STATEN ISLAND, N.Y. (PRWEB) November 13, 2017
Judge Goldberg's address to the real estate group is titled, "The Three Most Important Things in a Murder Trial: Location, Location, Location" and will discuss the memorable circumstances involving locating the perpetrator, locating the witnesses, and locating the physical evidence in some of his front page Staten Island and Brooklyn murder trials.
Judge Goldberg's book, a memoir of his career both as an Assistant District Attorney and as a criminal trial judge, contains summaries of the dozens of fascinating criminal trials he handled over his career and has received critical praise in reviews in the New York Law Journal and the Journal of the Richmond County Bar Association. Judge Goldberg describes his career and cases in both an entertaining and educational style that brings an appreciation of the criminal process to his readers
Boulevard Books was founded in 2010 by author and educator Avi Gvili in order to empower authors everywhere with control of their work. It is the only publishing company that offers 100% royalties.
Share article on social media or email: