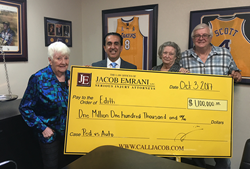 LOS ANGELES (PRWEB) January 05, 2018
After a lively woman in her 90s was injured by an automobile in January of 2016, her ankle was shattered and her mobility was severely limited, leaving her with medical bills totaling nearly $100,000.
When she was offered $100,000 initially by the insurance company, The Law Offices of Jacob Emrani pushed for more and eventually reached a settlement of $1.1 million, many times more than the initial offer.
The Law Offices of Jacob Emrani routinely obtains settlements far higher than originally extended by the insurance companies, often in the millions of dollars. This is because they understand California injury law and they appreciate that being in a serious accident means more than hospital stays and doctor visits. For this reason, they fight to compensate clients for their emotional trauma, on top of medical expenses and lost wages from work.
The Law Offices of Jacob Emrani works to recover compensation for the victims of a wide range of accidents—car accidents, truck accidents, bad falls, and much more. Clients can rest assured that they will not be charged a penny unless their case is successful. The firm can be reached by calling (888) 952-2952 or by visiting their website: https://www.calljacob.com/.
Los Angeles Superior Court, Central District, Case No.: BC640222
Share article on social media or email: