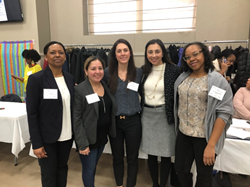 "The expo challenged young ladies to see the true value of dedication, planning, and support to achieve success," Collins said. "I am honored to be in the presence of women who share these values and were willing to truly serve as examples through their service."
GREENWICH, Conn. (PRWEB) April 29, 2019
G.O.O.D. for Girls is a community-based mentoring, asset, and leadership development program for girls age 9-18 in Westchester County and surrounding areas. Chavonne Collins, a G.O.O.D. for Girls board of directors member and employee at Ivey, Barnum & O'Mara, LLC, introduced the opportunity to members of the firm.
The event at Pace University's Pleasantville campus hosted a crowd of 100-150 girls exploring career paths with a focus on underrepresented fields for women, including construction, law enforcement, engineering, and cybersecurity. The day began with a diverse panel of women representing all career ranks, from students to top-level executives. Following the panel, participants networked their way through a career expo, learning about potential courses of study to drive their future.
Ivey, Barnum & O'Mara, LLC maintained a strong presence throughout the day, as attorneys Andrea Sisca and Jessica Signor represented women in the field of law, discussing their experiences in the areas of litigation and estate planning. In addition, fellow staff members set up shop as expo presenters in the areas of human resource management and paralegal studies. Others presented in break-out sessions and volunteered as event management staff.
Ivey, Barnum & O'Mara, LLC is proud to cultivate an internal culture of community and giving. Through volunteerism, we encourage the spread of those values among surrounding communities.
About Ivey, Barnum & O'Mara, LLC
Ivey, Barnum & O'Mara, LLC is a general practice firm established in Greenwich, Conn. It is the largest Greenwich-based law firm, with more than 30 attorneys managing a wide range of legal matters, including litigation, employment, trusts, and estate planning, real estate, corporate, personal injury, and wrongful death. To learn more about Ivey, Barnum & O'Mara, LLC, visit our websites at http://www.ibolaw.com or http://www.ibopersonalinjurylawyers.com.
Share article on social media or email: