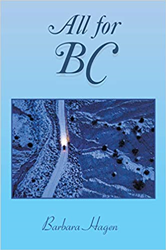 Bill Cosby was tried and convicted in the court of public opinion long before he saw his day in court.
LOS ANGELES (PRWEB) May 20, 2019
Often referred to as "America's Dad," William Henry Cosby, Jr., the former stand-up comedian and actor known as Bill Cosby, played "Dr. Heathcliff Huxtable" on the popular family sitcom, "The Cosby Show." Nominated for 17 Grammy Awards, throughout his successful career, he won nine and was the television spokesperson for the popular brand "Jell-O" for more than 25 years.
More than 50 women have publicly accused Cosby of raping or sexually assaulting them over the past 40 years. He was convicted of sexual assault in 2018.
Author Barbara Hagen believes a broken legal system is to blame for Cosby's conviction and is determined to ensure that what happened to Cosby won't happen to anyone else. In her latest book, "All for BC," Hagen provides a collection of poems dedicated to and in support of the former comedian.
"No matter how you disagree with the accused," Hagen said, "they still have the constitutional right to a fair trial. Bill Cosby was tried and convicted in the court of public opinion long before he saw his day in court."
Inspired by Cosby's criminal proceedings, Hagen hopes her book of poetry with bring attention to injustice and help others to receive fair treatment.
"This is not about attacking victims of sexual abuse," Hagen said. "This book is about defending Bill Cosby and others from unfair and unethical legal practices. Being famous shouldn't mean you don't have the right to an impartial trial."
"All for BC"
By Barbara Hagen
ISBN: 978-1-9845-6792-5
Available at Xlibris, Amazon and Barnes & Noble
About the author
Barbara Hagen began her professional writing career by writing articles on Associated Content (now Yahoo.com). She is the author of "A Day in the Life of a Compulsive Gambler," and "Writing Where Authors Fear to Tread." Hagen lives in California with her husband of sixteen years. For more about Hagen or her works, visit: https://www.xlibris.com/Bookstore/BookDetail.aspx?BookId=SKU-001199539.
Review Copies & Interview Requests:                    
LAVIDGE – Indianapolis                        
Lindsey Gobel                    
317.435.2116                
lgobel@lavidge.com
Share article on social media or email: