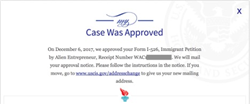 NEW YORK (PRWEB) December 15, 2017
CanAm Enterprises (CanAm), the leading regional center operator in the EB-5 Immigrant Investor Program, is pleased to announce that the first investor-family in its 48th EB-5 project has had their I-526 approved from USCIS on December 6, 2017.
Administered by the United States Citizenship and Immigration Services (USCIS), the EB-5 Immigrant Investor Program (EB-5) provides opportunities for qualified foreign nationals to achieve permanent legal residency in the United States through an investment in a USCIS-approved project that will generate at least 10 full-time jobs in the U.S.
The proceeds of the $14.5 million foreign investment are will help construct the state-of-the-art, four-story, 85,000-square-foot research facility to promote cutting-edge research and collaboration, provide advanced equipment and core facilities, attract promising new and experienced scientists for the Borrower.
Construction of the new research facility has begun since the fourth quarter of 2016 and it is expected to begin occupying the research facility by the first quarter of 2019.
Before launching an EB-5 project to the market, CanAm's project development team sometimes works with government-affiliated agencies to select projects that meet the intent of the EB-5 program, and structures them conservatively, knowing that our investors' futures are at stake. CanAm's underwriting team conducts exhaustive due diligence in order to qualify a project as a potential investment. As a third-party regional center, CanAm and its employees are committed to the highest level of integrity and transparency demanded by its immigrant investors and the EB-5 Program. The first I-526 petition approval is a vote of confidence for this project, which received an exemplar approval from USCIS last year.
To date, more than 3,700 investor-families received I-526 approvals through investing in one of the CanAm's EB-5 projects.
About CanAm Enterprises
With three decades of experience promoting immigration-linked investments in the United States and Canada, CanAm has a long and established track record. Based on a reputation of credibility and trust, CanAm has financed 55 project loans and raised more than $2.5 billion in EB-5 investments. CanAm exclusively operates seven USCIS-designated regional centers that are located in the city of Philadelphia, the Commonwealth of Pennsylvania, the county of Los Angeles, the metropolitan region of New York, Hawaii, Florida and Texas.
For more information, please visit: http://www.canamenterprises.com
Share article on social media or email: