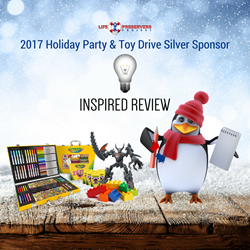 "It makes me grateful to be part of the altruistic side of the legal community" - Michael Dalewitz, CEO
NEW YORK (PRWEB) December 11, 2017
Inspired Review will once again be sponsoring the 2017 Life Preservers Project Holiday Benefit #2017LPPHolidayParty and Marine Toys for Tots #toydrive on December 11th at Proper West in NYC! We ask all in the legal industry to join us for an evening of good cheer and networking for two good causes. Life Preservers Project has collected hundreds of toys over the last 9 years to help children in NYC celebrate the holidays. The organization has also pledged net proceeds from the evening will go to help those affected by the hurricanes in Texas, Florida, and the Caribbean.
Please visit http://www.lifepreserversproject.org/event/2017-holiday-party-toy-drive/ for more information.
Michael Dalewitz, CEO of Inspired Review, had a few words that he wanted to share. "Thank you Shana Pederson, LPP Board of Directors, Maribel Rivera, and all the Supporters of The Life Preservers Project. It is always an honor and an inspiration to participate in your passionate causes and it makes me grateful to be part of the altruistic side of the legal community."
About Inspired Review
Founded in 2013, Inspired Review is the most groundbreaking document review firm in the legal industry and the Pioneer of Remote Document Review. With advances in data security and skills testing and metrics technology, through its proprietary software, ReviewRight, Inspired Review has built the largest network of highly qualified document review attorneys in the United States. Inspired Review ensures the defensibility of your review and minimizes the risk of error through statistically validated quality control, developed in-depth validation and targeted search methodologies. Inspired Review is also very concerned with igniting change in the world by giving back. A percentage of all the company's profits are donated to a monthly sponsored charity.
Share article on social media or email: