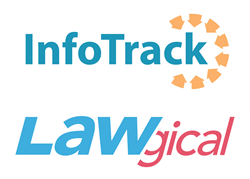 With the backing of InfoTrack, Lawgical will be positioned for growth and to further its mission to simplify service of process and to provide world-class legal content.
NEW YORK (PRWEB) January 11, 2021
The InfoTrack group of companies, a global leader in legal technology and litigation solutions, announced today that it had acquired Lawgical.
Among Lawgical's segment-leading brands, ServeNow is the nation's largest independent network of process service professionals, with the website attracting well over two million views per annum. ServeManager, the leading technology solution for service of process, has revolutionized the workflow and integration of process servers with over 150,000 process serving jobs per month on the platform. Legal Talk Network is a trusted provider of educational content to the legal industry with 25 active podcasts and more than 300,000 monthly downloads.
Building on its strategic investments in One Legal and LawToolBox, the Lawgical acquisition significantly accelerates InfoTrack's vision to enhance the workflow of legal market participants across the litigation process via powerful integrations. InfoTrack now offers streamlined court filing, service of process, calendaring and docketing to its valued clients across the U.S.
Matt Duncan, Group CEO InfoTrack U.S., said, "We are excited to announce that Lawgical is joining InfoTrack's global family of legal technology companies. The Lawgical team has built a world-class platform that forms a critical part of InfoTrack's strategy to seamlessly serve its clients through the litigation lifecycle via an end-to-end workflow integration solution. With the backing of InfoTrack, Lawgical will be positioned for growth and to further its mission to simplify service of process and to provide world-class legal content."
Adam Camras, CEO and Co-Founder of Lawgical, stated, "Today marks an exciting step in Lawgical's journey. With the support of InfoTrack's continued investment in technology and development, we are committed to accelerating our future growth."
Following the acquisition, Lawgical will operate independently under the Lawgical brand, continuing to seek market leadership in process serving software and legal podcasting. Lawgical will remain headquartered in Denver, CO and will continue to be led by Adam Camras and Trent Carlyle.
InfoTrack remains committed to building its U.S. business through future strategic M&A.
About the Lawgical portfolio of companies:
Founded in 2003, Lawgical provides online marketing, software, and media for the legal industry. The portfolio includes seven trusted core brands, each of which are leaders in their respective industries. The core brands include:
ServeNow.com – find a reliable local pre-screened Process Server anywhere
ServeManager – the #1 cloud-based software for Process Servers, rated 4.8 out of 5 stars
CourtFiling.net – fast and secure court document e-filing services for key states
Legal Talk Network – premier online media network for legal industry with 25 active podcasts
Lawgical Sites – semi-customizable websites for the legal industry
PInow.com – find a reliable local pre-screened Private Investigator anywhere
Learn more about Lawgical at https://www.lawgical.com/.
About the InfoTrack group of companies:
InfoTrack is a global innovator in legal technology servicing the needs of the legal market in Australia, New Zealand, the U.K, and the U.S. InfoTrack is a leading provider of integrated SaaS platforms that enable clients to find, analyze, organize and communicate information efficiently and effectively. InfoTrack has globally been at the forefront, helping law firms through technology innovation for 20 years and has a deep understanding of the legal industry in multiple jurisdictions with over 35,000 legal firms worldwide.
For more information, please contact:
mediarelations@infotrack.com
Share article on social media or email: