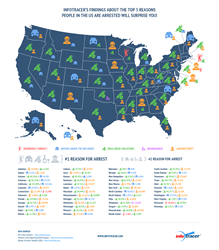 At Infotracer we believe that facts speak louder than words. We ran this study to search for commonalities and anomalies in the data that can help us understand the big picture of arrests in the U.S. Our findings illustrated how culture differs from state to state and impacts the reasons for arrests
BOSTON (PRWEB) July 18, 2019
The most common offenses leading to arrests in the United States are Larceny/Theft, Drug Abuse Violations, Driving Under the Influence, Drunkenness, and Disorderly Conduct. Interestingly, Disorderly Conduct only showed up as the most common and second most common reason for arrest records in three states. For someone following the daily media headlines, this may be surprising, as the items that most often make the news involve violence and the use of firearms. This research is a reminder that the most frequently occurring crimes are those of a petty and non-violent nature.
As laws change, so do arrest statistics. Marijuana legalizations across multiple states will likely shift these statistics a lot in the coming years, and it will be interesting to see what this type of legislation does to the big picture of U.S. arrests. Driving Under the Influence regulations have been changing as well, but in the other direction. Many states have lowered the legal blood alcohol level for operating a vehicle recently. This increases the potential for arrests involving driving under the influence.
Other intriguing insights uncovered by InfoTracer include:
Nebraska having some of the lowest White-Collar Crime-related arrests in the United States with only 68 arrests in total.
The only states in the Eastern part of the United States that did not have Drug Abuse Violations as their top two reasons for arrest were North Carolina, Maine, Connecticut, and Vermont.
The states that had Driving Under the Influence as their top type of the arrest or second most common type of arrest being all rural states lacking America's largest cities with established mass transportation networks.
Colorado, Vermont, and Washington, the first states that legalized Cannabis for recreational use, do not have Drug Abuse Violations as their top two reasons for arrest.
Neither Alaska or Hawaii had Drug Abuse Violations as their top reasons for arrest.
Oklahoma being the only state that had Drunkenness as one of their top two types of arrests.
Drug Abuse Violation arrests are more than four times more common than Driving Under the Influence arrests as the number one arrest reason in states.
Only Rhode Island and Wisconsin having Disorderly Conduct as their top kind of arrest and Connecticut having Disorderly Conduct as its second most common type of arrest.
Larceny is a very common reason for arrest: number one in 8 states, and number two in 25 states.
Share article on social media or email: