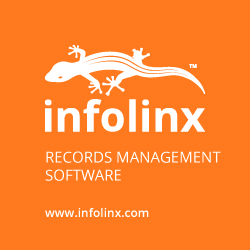 We're excited to offer the legal community a solution with a 30-year track record featuring best-in-class physical records management, integrated digital content, shared client/matter data, advanced retention/disposition, and ethical wall capabilities
KENSINGTON, Md. (PRWEB) January 18, 2018
Infolinx, a leading provider of records management software, is pleased to announce that they will be exhibiting at Legaltech 2018, part of Legalweek New York at the New York Hilton Midtown on January 29 – February 1, 2018.
Legalweek New York brings together the legal industry to address challenges and issues facing legal professionals today. Legalweek will feature workshop boot camps, networking events, over 300 exhibitors and five conferences designed to address key issues at a functional level. This conference brings together the entire team that manages the business of law to explore the Business and Regulatory Trends, Technology and Talent drivers impacting the industry.
"We're excited to offer the legal community a solution with a 30-year track record featuring best-in-class physical records management, integrated digital content, shared client/matter data, advanced retention/disposition, and ethical wall capabilities," said Tim Butler, Managing Director at Infolinx.
Infolinx will be presenting live product demonstrations, highlighting features such as:
    Seamless client/matter management with built-in ethical wall functionality
    Value-added integrations with leading ECM/DMS and off-site storage providers
    Full-text search of all records and files, regardless of media type
    Advanced retention, legal holds, and disposition functionality for both physical and digital records
    Automatic approval workflows & extensive reporting
Infolinx invites attendees to see live product demonstrations at booth #527 during exhibitor hours on Jan. 30 - Feb. 1, 2018. To schedule a product demo in advance or for more information, contact us today.
About Infolinx®
Infolinx is a leading provider of records management software solutions for physical records management and digital content management. Its solutions enable organizations to efficiently access and manage critical records and information from a single, browser-based application.
Available on-premises or in the cloud, Infolinx software solutions are implemented across a variety of industries, including financial services, pharmaceutical, healthcare, legal, and local, state, and federal governments. To learn more, visit http://www.infolinx.com.
Share article on social media or email: