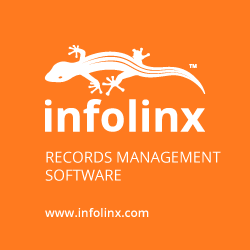 KENSINGTON, Md. (PRWEB) July 23, 2018
Infolinx, a leading provider of records management software, is pleased to announce that they will be exhibiting at ILTACON 2018, hosted at the Gaylord National Resort and Convention Center in Washington, DC, from August 19-23.
ILTACON is an annual education conference that provides all types of legal professionals—from lawyers, records and information managers, litigation support, IT personnel, corporate leaders, innovators, and more—with the most up-to-date and pertinent industry information. Industry professionals from around the country will discuss the hot-button topics of practical innovation, ranging from cloud-based solutions to blockchain to data security, eDiscovery, and data analytics.
Infolinx, a returning ILTACON exhibitor and ILTA Corporate Sponsor, will be showcasing their records management software feature set built specifically for the legal industry. Highlighted features include:
Advanced retention and disposition management
Seamless client/matter management with ethical walls
Data replication features
Legal holds
Automatic approval workflows
Comprehensive audit trail
Infolinx invites attendees to see live product demonstrations at booth #426 during exhibitor hours, August 19-23.
About Infolinx®
Infolinx is a leading provider of records management software solutions for physical records management and digital content management. Its solutions enable organizations to efficiently access and manage critical records and information from a single, browser-based application.
Available on-premises or in the cloud, Infolinx software solutions are implemented across a variety of industries, including financial services, pharmaceutical, healthcare, legal, and local, state, and federal governments. To learn more, visit http://www.infolinx.com.
Share article on social media or email: