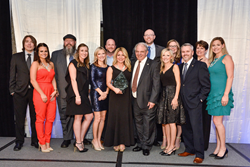 TYSONS, Va. (PRWEB) November 06, 2018
InCadence Strategic Solutions Corp. has been named the Contractor of the Year in the under $25 million category at the 16th Annual Greater Washington Government Contractor Awards™, the most prestigious awards in the industry at a gala at The Ritz-Carlton Tysons Corner on November 5th. The GovCon Awards, presented by the Northern Virginia Chamber of Commerce (Northern Virginia Chamber) and the Professional Services Council (PSC) honor the leadership, innovation and commitment to the excellence of the individuals and businesses in the region's government contracting sector.
"InCadence is incredibly honored to be named Contractor of the Year in our category, and to be part of this tremendous GovCon community, dedicated to serving our nation and making our country stronger," said Sandy Corbett, InCadence CEO. "The GovCon Awards reflect InCadence's commitment to ensuring our customers mission success as well as the resilience and strength of our leadership team and of our employees. Complete results and additional information about the 2018 GovCon Awards can be found at http://www.novachamber.org/ .
About InCadence Strategic Solutions Corp.
InCadence Strategic Solutions Corp., founded in 2009, is a growing business headquartered in Manassas, VA. InCadence has built a strong reputation for providing cutting-edge technical solutions for our government and commercial clients in the areas of Biometrics and Identity Management, Data Solutions, Tactical Communications and Operational Intelligence.
InCadence has been recognized with a #1 ranking for 2018 Best Place to Work, Washington Business Journal, 3 consecutive Great Places to Work, Washingtonian Magazine in 2017, 2015 and 2013; 2017 Innovation Award Winner, Washington Business Journal; 2016 Program of the Year, GovCon Awards; 2016 Transformer of the Year, ACT/IAC; 2014 Inc. 5000 list and 2013 SECAF Government Contractor of the Year ($6-$12M category).
InCadence maintains a DCAA Approved accounting system and certifications and standards of CMMI ML2 Dev, ISO:9001-2015, ISO 20000, and ISO 27000.
InCadence is an Equal Opportunity Employer, M/F/PV/D.
For more information about InCadence Strategic Solutions Corp. visit InCadencecorp.com.
Share article on social media or email: