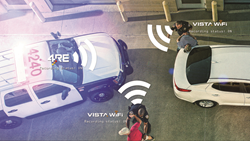 We believe this is the Holy Grail for our industry.
(PRWEB) December 03, 2017
WatchGuard, Inc. ("WatchGuard"), the leading provider of mobile video systems for law enforcement, was listed among the fastest-growing private companies in America for 2017 by Inc. Magazine. This is the third consecutive year WatchGuard has been recognized by Inc. Magazine and ranked among the fastest-growing private American companies.
The 2017 Inc. 5000 rankings were based on a three-year revenue growth rate. In 2016, WatchGuard posted net revenues of $77.1 million and, based on the Inc. 5000 methodology, had a three-year growth rate of 71.19%, which positioned the company as number 3,982 on the list.
Fully Integrated In-Car and Body-Worn Cameras
"One of the key drivers to our growth has been the industry's first fully integrated and synchronized in-car and body-worn camera system," explained Robert Vanman, founder and CEO of WatchGuard. "The 4RE® HD In-Car Video System and the VISTA® WiFi Body Camera work together seamlessly as a single integrated system, automatically capturing high definition video of an incident from multiple, synchronized vantage points. We believe this is the Holy Grail for our industry."
About WatchGuard, Inc.
WatchGuard is the leading provider of video systems for law enforcement. Our products include in-car video systems and body-worn cameras along with evidence management software. Our solutions increase transparency and accountability, improve trust between law enforcement agencies and the communities they serve, reduce agency liability and advance the judicial process. We have supplied our products to approximately one-third of all law enforcement agencies in the United States and Canada. To learn more, please visit http://www.watchguardvideo.com or call 1-800-605-6734.
Share article on social media or email: