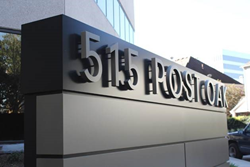 We designed a modern work environment that fosters the productivity, efficiency and collaboration of our attorneys...
HOUSTON (PRWEB) July 31, 2018
Fullenweider Wilhite, P.C. has outgrown its penthouse suite on San Felipe and has relocated to 515 Post Oak Boulevard, a Spear Street Capital Class-A office building. The family law firm has increased its footprint to 18,000 square feet occupying the entire 8th floor.
2018 marks the 10-year anniversary for partners Donn C. Fullenweider and Randall Wilhite joining together in 2008 to form Fullenweider Wilhite, P.C. Fullenweider first moved to 4265 San Felipe in 1994 as The Fullenweider Firm. Within the last two years the family law firm has seen rapid growth, including the opening of an Austin office in 2017. They currently have 12 full time attorneys and over 25 staff, with plans for continued expansion in the near future.
Susan McLerran, recently named Managing Partner, was an integral part of the lease negotiations.
"I have been working with Susan McLerran for 12 years, she is one of the smartest, most creative and hardworking attorneys I've ever known. Our decision to elevate Susan to Managing Partner was an easy one because she is a natural leader who not only has a strong vision of growth, but she leads by example and is someone who takes care of even the smallest detail. I am completely confident that our firm will continue to thrive and grow under her able leadership," said Partner, Randall Wilhite.
515 Post Oak underwent a major renovation in 2012 and offers tenants upscale amenities, including a full-service deli and fitness center.
"The firm is thriving and our recent growth solidified our decision to relocate to larger offices. We designed a modern work environment that fosters the productivity, efficiency and collaboration of our attorneys and staff, while offering a comfortable and attractive atmosphere for our clients," said Susan McLerran. "Acquiring the entire 8th floor supported our vision for the future of Fullenweider Wilhite and our expectation for continued expansion."
Share article on social media or email: