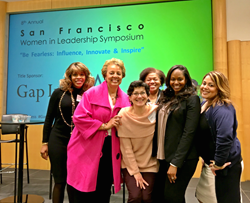 To go from a Director to being an executive in the organization required a lot of transformation on my own part but also how other people thought of me.
SAN FRANCISCO (PRWEB) October 19, 2017
Hope Scott, the Vice President and Chief Risk and Compliance Officer at Blue Shield of California, was recently featured in American Healthcare Leader for her work and leadership in the healthcare industry. Scott's work at Blue Shield has allowed millions of Californian Medi-Cal members to receive quality care through Care1st, and she has also launched a new Medicare compliance initiative to mitigate risk. With 27 years of healthcare and legal experience, Scott shares how executive coaching has continuously helped develop her professional career in an interview with Dragonfly Consultants, a certified women-owned business that offers executive coaching in leadership development and organizational culture.
The interview was led by one of Dragonfly Consultants' Co-Founder and Executive Coach, Adrienne Seal, who has had experience working with companies, including Blue Shield, Clorox, HP and Cisco on executive coaching, leadership development and team development. Throughout the interview, Scott shares how having an executive coach like Seal has helped her overcome work obstacles that she otherwise wouldn't have known how to deal with.
One of the ways Seal has helped Scott was through the transition into her promotion of her current role. Scott was now managing a team of about 50 people and soon learned that becoming a leader was more than just managing employees. Scott shares, "My biggest learning was that it was possible to have a plan in how to move forward and how to transform who I appear to be in the organization. To go from a Director to being an executive in the organization required a lot of transformation on my own part but also how other people thought of me. And having [Seal] as a coach in particular, I think the most important initial steps were for you to help me realize that people looked at me differently now. Even though I'm the same Hope that has been there the day before the promotion was announced, people looked at me differently because now I was a Vice President and now I was in a different category of leadership in the organization."
In order to successfully lead the team, Seal worked closely with Scott to develop a roadmap on how to best strategically plan and execute on team objectives. With Scott's passion in healthcare and law and Seal's coaching, Scott has been able to transform into a virtuous leader. Words of advice from Scott were, "As a leader, you can't be timid... As a leader, you have to think about what's really important."
Scott's early years of professional work has allowed her to overcome and defy gender and racial stereotypes. Proving to be more than just another label ("she's a woman; she's of color; she's inexperienced"), Scott takes on all challenges with an open-mind and thick skin. Utilizing all types of resources, Scott recommends mentoring, coaching, joining groups and creating a professional development plan to continue to learn and grow.    
"Working with Dragonfly and working with [Seal] as a coach has been transformative; it has made me accept who I can be and makes me want to strive to be better all the time. And I really appreciate the fact that even after our coaching engagement formally ended, we remained in touch; we remained connected. I think that stands out to be from the person you are, but it's reflective of the nature of your coaching... You and your organization has really helped to transform my career."
About Blue Shield of California
Founded in 1939, Blue Shield of California, an independent member of the Blue Shield Association, is a nonprofit health plan dedicated to providing Californians with access to high-quality health care at an affordable price. The organization serves over 4 million health plan members and nearly 65,000 physicians across the state.
About Dragonfly Consultants
Dragonfly Consutants provide several specialized services to help organizations achieve their goals in a sustainable and positive organizational culture, where everyone brings their best self to work. Working closely with their clients and by building relationships, Dragonfly Consultants focuses on organizational culture transformation, assessments, leadership development, off-sites and retreats, and executive coaching to offer a humble holistic approach.
To learn more, contact Dragonfly Consultants' or email info(at)dragonflyconsultants(dot)net.
Dragonfly Consultants Linkedin
Dragonfly Consultants Facebook
Dragonfly Consultants Twitter
Dragonfly Consultants Youtube
Share article on social media or email: