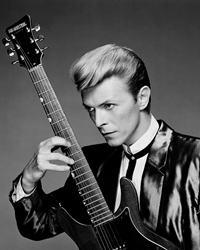 David Bowie had a spiritual hunger.
HOLLYWOOD, Calif. (PRWEB) November 21, 2018
HERO'S: THE DAVID BOWIE STORY (Unauthorized)
In the wake of Bohemian Rhapsody comes an unauthorized biopic about one of the most controversial singers of our time "The David Bowie Story". Producer of the project Ciara Jayne O'Brien a native of Belfast, sat with Chapa on his last movie set starring Chapa and Danny Trejo drilling Damian Chapa, veteran actor from Blood in Blood out, about why he wanted to do a film about Bowie before getting involved with the project. "Damian told me that one day he was researching Bowie before he came to his decision to begin writing the script. The vision was very real for me. I to have often shared the same thought provoking question. What is that fine line between heaven & hell? What power is behind such an amazing musician? These questions pulled me into focus as we all are a part of the paradox of our relationship with how we view divinity and how faith has shaped our world." Chapa said he was shocked when he watched Bowie on Youtube kneeling before tens of thousands of people on his knees saying the lords Prayer.
Chapa, stated when he watched the spiritual moment he did intense research and found out that Bowie felt "A very evil presence leading him to the dark side". Bowie wanted to be close to God. Chapa said it was like a voice calling him. Bowie was not just a normal rock star living a life of sex, drugs, and rock and roll. He actually had a deep spiritual hunger. Chapa said that he felt the same in his life and wanted to emulate the same battle utilizing Bowie's great life. Chapa said he will not shy away from the dark side of events that David Bowie said he experienced including black magic. Producer O' Brien said Spanish star Marta Blanc will play Catherine Deneuve in a dream sequence of one of the rock and roll legends 80's films.
Controversial filmmaker Damian Chapa also produced 'El Padrino' in which Chapa directed Academy Award winners Faye Dunaway, Jennifer Tilly, and Gary Busey, along with Academy Award nominee Brad Dourif.
Chapa is no stranger to biopics; Chapa is the only filmmaker in the world who has produced and directed films on the life of Marlon Brando and Roman Polanski.
Chapa won the best director and best drama awards for "Brando Unauthorized" at the New York International Film/Video Fest. He also won the Best Production Award for his "Polanski Unauthorized" at Indy Fest. Recently, he was nominated for two NAFCA awards for his film "The DSK Story".
More recent Chapa has been nominated for his lead role in LUZ a at the 2018 MIFF film festival
The production begins on June 22rd, 2019, in New York City.
References:
https://www.imdb.com/title/tt9271482/?ref_=nv_sr_1
https://pjmedia.com/faith/2016/1/14/why-david-bowie-knelt-and-said-the-lords-prayer-at-wembley-stadium/
CONTACT:
David Goldman
+34632797746
Share article on social media or email: