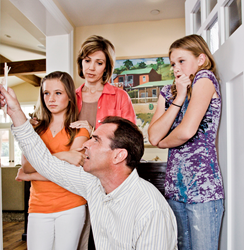 Crime is always highest during the holidays. Criminals know that people are traveling or have new presents in their home.
OSAGE HILLS, Okla. (PRWEB) December 21, 2017
Two volunteer firefighters in Osage County, Oklahoma came home to find that thieves had broken into their home. Channel 6 News in Tulsa reported that thieves forced their way in, stole Christmas gifts, guns and other valuables. It is a reminder to everyone that the holiday season is not vacation time for thieves and that crime is very active in rural America.
Alan Young has made keeping people safe his life's work. He is a sought-after speaker and security expert whose advice and products have been featured in magazines, newspapers, on numerous radio shows, and on top TV shows such as The Today Show, Fox News, Bloomberg, The CBS Early Show, The Discovery Channel, "It Takes a Thief," and HGTV.
"Crime always increases during the holidays," said Mr. Young. "Thieves know that homeowners and renters are traveling and those at home have presents under the tree." Crime is no longer a "bad area" problem. In the past several years, the increased distribution of methamphetamine and other drugs has dramatically increased the amount of crime in rural areas. "Better" suburban areas have also seen a significant increase in crime during that same time frame. "It's pretty simple, thieves have figured out that people in better areas have better things and 'new age' drugs have really changed rural America," says Young.
Young is concerned that most people view security as how to reaction to an invasion, rather on how to prevent one. He reminds homeowners that a home alarm doesn't work until after an intruder is inside and a gun is a last resort that can only be used if the gun owner is at home. He believes that several major misconceptions, such as "alarm systems keep you safe" continue to put people at risk. "Police response time to a home alarm system is often over 20 minutes and most thieves can be in and out of a home in less than 5. Someone can kick in your door and be in your house in 10 seconds; is that enough time to find your gun? Will your spouse or children know how to use your gun if you are away? The key is to take steps to keep them out in the first place," says Young.
Young's advice to homeowners is to be proactive: "Don't announce vacation plans on social media sites, install proper lighting inside and out, take care when discarding holiday gift boxes, and most important, Secure Your Doors," says Young, adding, "Securing your doors and windows is crucial to increasing the likelihood of success against a burglar. There are simply too many easy targets out there. Make sure that you are not one of them."
Alan Young is CEO of Armor Concepts LLC, a Nashville based company that specializes in the development and implementation of physical security solutions. Since 2004 Armor Concepts has secured more than 250,000 doors with its proprietary Door Armor, FIX-A-JAMB and Armor Latch products and has been featured on The CBS Early Show, Fox News, Bloomberg and the TODAY show among others. For more information on Armor Concepts, visit armorconcepts.com.
Share article on social media or email: