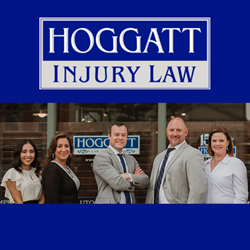 As a small law firm, we give personal attention to each of our clients and treat them as real people with real needs. Our clients become part of our family, and we fight for them until they receive the compensation they need. - Firm Owner Darby Hoggatt
FORT COLLINS, Colo. (PRWEB) November 01, 2018
Hoggatt Law Office, P.C., is proud to announce that it has received an A+ accreditation rating from the Better Business Bureau of Northern Colorado and Wyoming.
The BBB evaluates businesses for accreditation based on their honesty and integrity in advertising and customer service. An A+ score on the accreditation test reflects that Hoggatt Law Office, P.C., has demonstrated the highest level of transparency and responsiveness with its clients.
"As a small law firm, we give personal attention to each of our clients and treat them as real people with real needs," said firm owner Darby Hoggatt. "Our clients become part of our family, and we fight for them until they receive the compensation they need."
Attorney Darby Hoggatt founded Hoggatt Law Office, P.C., in Fort Collins, Colorado, in 2002. Since its opening, the injury law firm has added offices in Greeley and Longmont and a new attorney, Cameron Lucke. Hoggatt is licensed to practice law in Colorado, South Dakota, and Wyoming.
The attorneys at Hoggatt Law Office, P.C., have more than 20 years of experience helping clients receive personal injury compensation for vehicle and pedestrian accidents, including those involving drunk driving, distracted driving, and rideshare services. The firm also serves clients making wrongful death and worker's compensation claims.
Hoggatt is a member of the Colorado Trial Lawyers Association and the Workers' Compensation Education Association. He was named an Elite Lawyer for Personal Injury in 2018 and received the Martindale-Hubbell Client Champion Award – Platinum Distinction.
About Hoggatt Law Office, P.C.:
For more than 15 years, Hoggatt Law Office, P.C., has served Northern Colorado clients in need of injury compensation. Our attorneys pursue the maximum compensation for your personal or work-related injuries, whether that means filing a worker's compensation claim or using litigation. We have three convenient office locations in Fort Collins, Greeley, and Longmont. For more information or to schedule a free consultation, call 970-225-2190 or visit https://www.hoggattlaw.com.
Share article on social media or email: